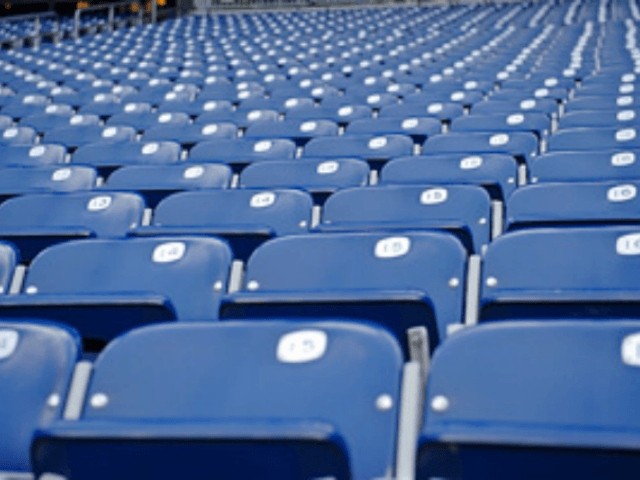 With half the NFL season behind us, fan attendance still has not ticked upward for the most part. And at least one fan thinks that the empty seats problem has gotten worse over last year.
I know this was a narrative last year and I didnt comment, but the continued number of empty seats at NFL stadiums is becoming more and more noticeable. I think the NFL has already reached its peak and it going to continue to trend downward

— Bring back the cursive font jerseys (@syracusemaniac) October 28, 2018
But for some of the early Sunday games, attendance seems lacking. For instance, as the San Francisco 49ers visited the Arizona Cardinals at the University of Phoenix Stadium, many wondered where the fans went. Many just saw empty seats:
More batin' material for my Sunday-only wackadoo crowd RT @jasonmredman: @[me] 1st Quarter in the #ToiletBowl #SFvsAZ #FEDUP pic.twitter.com/JEqe20SFLV

— Empty Seats Galore (@EmptySeatsPics) October 28, 2018
Lots of empty seats no Cardinal fans and no supporters get rid of the GM and the owner druggies alcoholics perverse bigots

— Roberto Vasquez (@hair7505) October 28, 2018
Game time in AZ pic.twitter.com/4xti4ToF8H

— Dan Bickley (@danbickley) October 28, 2018
Radio talker Doug Franz, though, tried to have it both ways. Saying there were a lot of empty seats, but still a lot of fans. Not sure how that works, but:
Yes there are a lot more empty seats than normal but there's an amazingly high number of fans here for two 1-win teams

— doug franz (@doug987FM) October 28, 2018
The Bengals' Paul Brown Stadium on the city's river front didn't exactly look filled, either, and several made comments about the situation:
Paul Brown Stadium at kickoff. #Bengals pic.twitter.com/kUOmCALKps

— Joe Danneman (@FOX19Joe) October 28, 2018
Empty seats in NFL stadiums. Lots of them, in Tampa. Today in Cincinnati.

— MikeSherman (@MikeSherman) October 28, 2018
Indeed, quite a few Cincinnati fans' empty seat reports carried a Halloween theme:
A lot of people dressed as empty seats at the @Bengals game

— Michael O'Connor (@Wchc1Michael) October 28, 2018
A Lotta fans in Cincy decided to dress up as empty seats today for Halloween..

— Scotty (@IAmScottyMoore) October 28, 2018
20,000 dressed up like empty seats

— Mike Evers (@eversmike13) October 28, 2018
Some worried about attendance at Lincoln Financial Field as the Carolina Panthers visited the Philadelphia Eagles at home:
Never used to see all those empty seats @MartinsvilleSwy especially at the fall race. Sad!

— Leanne Petty 📻 (@NCLeanne) October 28, 2018
Looks like a shit load of empty seats in Charlotte.

— Brian M (@briski715) October 28, 2018
Finally, one fan used a pic from a previous Rams game to show how empty the stadium can be when they're not playing the Green Bay Packers:
I just wanna know where these Rams fans came from bc they sho wasn't at the games last year…look at all those empty seats pic.twitter.com/K4cLJG7KqW

— TGD87🎅🏿 (@TGD871) October 28, 2018
Follow Warner Todd Huston on Twitter @warnerthuston.
http://feedproxy.google.com/~r/breitbart/~3/oDTwq1X5vIs/