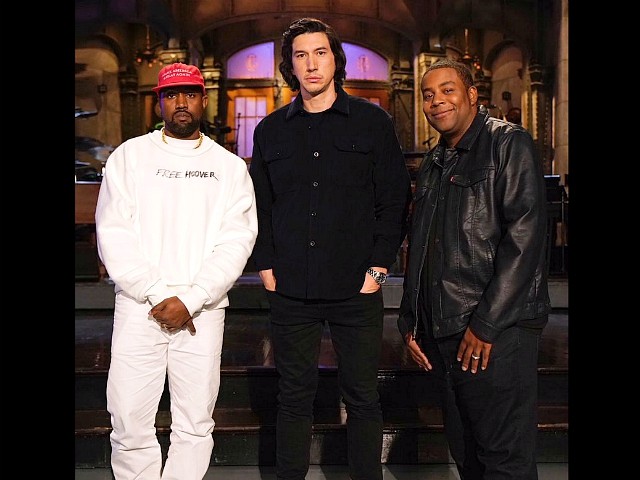 Grammy award-winning rapper and Trump supporter Kanye West donned a "Make America Great Again" baseball cap in a promotional video for Saturday Night Live's 44th season premiere.
Flanked by guest host and Star Wars actor Adam Driver and SNL longtime cast member Kenan Thompson, West is seen wearing the read MAGA hat with a white sweater, which reads "Free Hoover" on stage at Studio H8 in New York City. In the clip, viewed over 180,065 times, Driver announces he will host the upcoming show and then points to West, queuing the rapper to introduce himself. After a second or two of awkward silence, Thompson says of West, "Oh he's going to do something."
SNL pic.twitter.com/VZuaffZwCR

— ye (@kanyewest) September 27, 2018
TMZ reported artists 070 Shake, Kid Cudi, Lil Pump, and Teyana Taylor are expected to perform alongside West Saturday evening. In a tweet Saturday afternoon, the 'Jesus Walks" rapper announced he was changing his stage name to "Ye."
"[T]he being formally known as Kanye West I am YE," West wrote.
the being formally known as Kanye West

I am YE

— ye (@kanyewest) September 29, 2018
Since revealing his support for President Donald Trump in April, Kanye West has been the subject of both scorn from the political left and praise from the right. In August, the rapper lavished praise on President Trump for striving to be the "greatest president" in American history.
"I feel that he cares about the way black people feel about him, and he would like for black people to like him like they did when he was cool in the rap songs and all this," West told 107.WGCI Chicago. "And he will do the things that are necessary to make that happen because he's got an ego like all the rest of us, and he wants to be the greatest president, and he knows that he can't be the greatest president without the acceptance of the black community."
http://feedproxy.google.com/~r/breitbart/~3/Q0LTUSoYhBo/