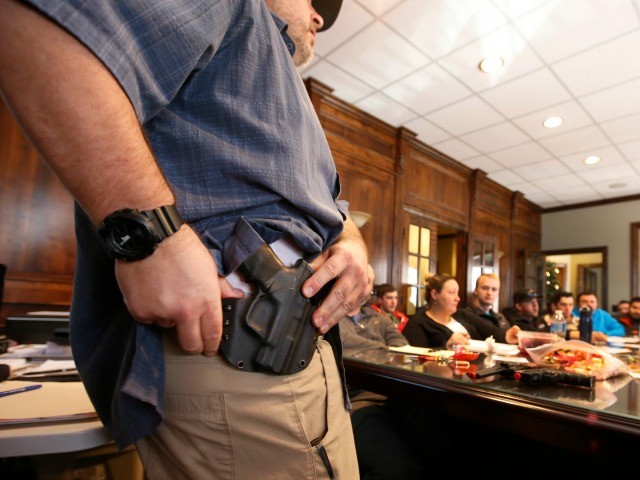 Washington, DC, concealed carry permits are skyrocketing following the dismissal of the District's "good cause" restriction for permit issuance.
On July 25, 2017, Breitbart News reported that the U.S. Court of Appeals for the District of Columbia ruled that D.C.'s "good reason" requirement for concealed carry permit issuance is unconstitutional. The ruling was handed down in Wrenn v. District of Columbia.
According to the Daily Caller, the District's "Metropolitan Police Department confirmed … Tuesday that 1,896 concealed carry permits were issued by MPD for the calendar year to date 2018." That represents a "1,440 percent" jump in the number of permits which were issued while the "good cause" restriction was in place.
New Jersey continues to artificially limit the concealed carry permit issuance by requiring applicants to show a justifiable need for carrying a handgun. And California continues to limit concealed carry permit issuance via a "good cause" restriction.
California's requirement is so restrictive that as of December 26, 2017, only 197 permits had been issued in all of Los Angeles County. The county has 10.2 million residents.
AWR Hawkins is an award-winning Second Amendment columnist for Breitbart News, the host of the Breitbart podcast Bullets with AWR Hawkins, and the writer/curator of Down Range with AWR Hawkins, a weekly newsletter focused on all things Second Amendment, also for Breitbart News. He is the political analyst for Armed American Radio. Follow him on Twitter: @AWRHawkins. Reach him directly at awrhawkins@breitbart.com. Sign up to get Down Range at breitbart.com/downrange.
http://feedproxy.google.com/~r/breitbart/~3/1hE_M2VhKIg/