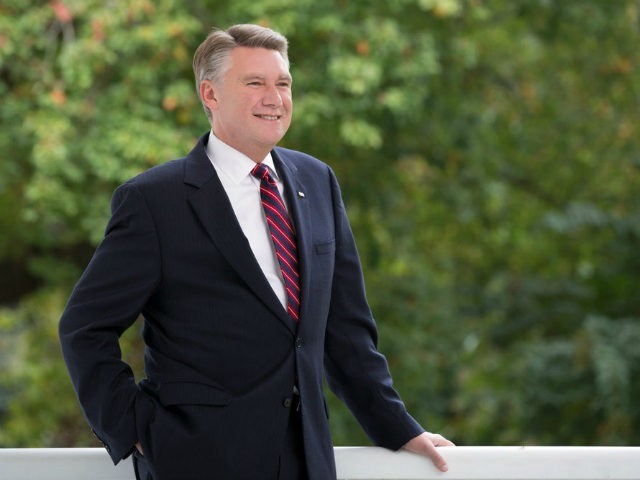 The executive director of Voter Integrity Project of North Carolina asked, "Are Democrats plotting to steal a NC Congressional seat?" on the non-partisan non-profit's website's Thursday night.
The organization's executive director, Jay DeLancy, wrote, "It came as a surprise, yesterday when the State Board of Elections refused to certify NC's 9th Congressional District election, where Republican Mark Harris had defeated Democrat Dan McCready by just 905 votes and McCready had already conceded."
"All of the ballots have long been counted and certified in the district's eight counties, so the state board's certification looked like a yawner until Democrat board member, Joshua Malcolm, cited concerns with fraud or voting irregularities and motioned to exclude the 9th CD race from certification. The motion carried, 9 to 0," DeLancy added.
Late Thursday night, the Democrat who conceded, Dan McCready, tweeted "I was as shocked as anyone to see the State Elections Board, in an unprecedented bipartisan 9-0 decision, delay certification of our election results."
I was as shocked as anyone to see the State Elections Board, in an unprecedented bipartisan 9-0 decision, delay certification of our election results. Our democracy depends on fair elections. I've issued the following statement. pic.twitter.com/oPWHABGf6R

— Dan McCready for NC (@McCreadyForNC) November 30, 2018
"Observers were still in the dark until Progressive activist, Gerry Cohen's late night tweet spilled the beans on his party's agenda to pick apart the votes that Harris earned during the close contest," Voter Integrity Project of North Carolina's DeLancy noted, adding:
According to Cohen, one precinct in the heavy Democrat Bladen County counted 159 absentee ballots. Only 18 were Democrats, 32 were Republican and 109 were listed as Unaffiliated, but "just 4 were black."

The Republican explanation to such an unusual statistic would be that Harris had gained lots of black supporters in 2012, after his leadership in the Marriage Amendment election.
Harris is no favorite of establishment Republicans in the state, having narrowly defeated the incumbent, Rep. Robert Pittenger, in a bitterly contested primary in May before apparently squeaking out a narrow victory over McCready in the general election on November 6.
Late Thursday, WSOC TV reported that it "has obtained several affidavits out of Bladen County, North Carolina, voicing concerns about how the U.S. House District 9 race in November was handled."
Witnesses who signed the affidavits claimed a known player in the county's political circles and an electioneer was also working for the Mark Harris campaign.

One of those sworn affidavits claims that man, Leslie McCrae Dowless, Jr., would receive a $40,000 bonus from the Harris campaign if Harris defeated Democrat Dan McCready.

Another affidavit said Dowless was "doing absentee" for Harris. The document claims Dowless said, "You know I don't take checks. They have to pay me cash."

Another affidavit points to workers going to voters' doors to collect absentee ballots. One voter said a worker told her she would finish the voter's ballot for her. Both acts would be illegal.
Democrats appear to be gearing up for a political power play over the outcome of the 9th Congressional District race.
"The emerging Democrat narrative is that Harris organized some sort of absentee ballot vote fraud scheme, so McCready should withdraw his concession and "contest" the outcome when Nancy Pelosi, as Speaker of the House, would make the final determination," Voter Integrity Project of North Carolina's DeLancy wrote:
According to the Heritage Foundation's Hans von Spakovsky, the procedure for contested Congressional races involves the losing candidate filing formal charges with the House Administration Committee, which would make a final recommendation to the full House.

He said the final authority in that type of scenario is the Congress and not the courts.

His unsolicited advice was for Congressman-elect, Mark Harris to "recruit good lawyers in all eight of his counties." Their job would be to make sure the final vote tallies don't start changing.
According to its website:
The Voter Integrity Project of NC was founded in 2011 by Jay DeLancy and John Pizzo. Their mission was to ensure free and fair elections to all lawfully registered voters. Mr. Pizzo has more than 30 years private industry experience in the discipline of of quality engineering and holds a Six Sigma Black Belt. Mr. DeLancy is a retired Air Force Lieutenant Colonel, with military experience in both conventional and nuclear operations with advanced degree work in journalism, business and political communication.
The organization's website notes that it "qualified as a 501(c)4 non-profit corporation" in 2018.
http://feedproxy.google.com/~r/breitbart/~3/JYCxsBKNe7Q/