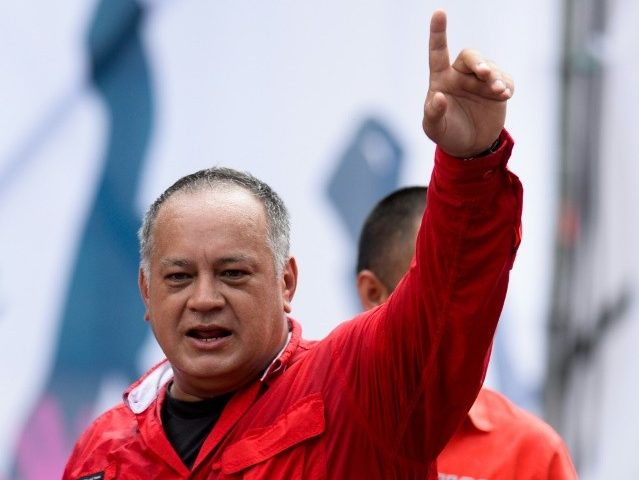 Leading Venezuelan socialist Diosdado Cabello declared on Thursday that people "must respect" the decision of an opposition lawmaker to commit suicide, despite no evidence suggesting he chose to kill himself.
Fernando Albán, a local councilman from Caracas, died in police custody on Monday shortly after returning from New York. According to Venezuelan officials, Albán threw himself from the tenth floor of Secret Police (Sebin) headquarters after being interrogated by officials. Officials offered conflicting stories on whether Albán chose to jump from the main officers of the building or asked to go to the restroom and then took the alleged plunge.
"They say he could not have killed himself because he was a Catholic. Isn't there proof that there are Catholics priests with children? Where does it say they can do that? It's absurd," Cabello said on his state television show Con El Mazo Dando ("Hitting with the Mallet"). "He took the decision and we have to respect that because it is the life of a human being."
Authorities arrested Albán at Caracas airport last Friday who claimed they had evidence linking Albán to a failed drone assassination attempt on Maduro at a military event the capital in August. The country's attorney general William Tarek Saab claimed that Albán requested to use a bathroom on the tenth floor of the Sebin facility and jumped out of the bathroom window to his death.
Opposition and foreign governments rejected this explanation and accused officials of torturing and murdering the politician. A spokeswoman for the U.N. rights office, Ravina Shamdasani, told reporters that the Maduro regime had "an obligation to ensure (Alban's) safety, personal integrity, and dignity."
"We are concerned about news of his death," she said. "We do indeed call for a transparent investigation to clarify the circumstances of his death."
According to El Nacional, the National Association of Journalists (CNP) and the National Union of Workers of the Press (SNTP) revealed on Wednesday that investigators have been threatened for reporting details related to the case questioning the government's narrative.
Cabello, who leads the ruling United Socialist Party of Venezuela (PSUV) in the fraudulent lawmaking body known as the "national constituent assembly," maintained that the government would conduct an investigation into Albán's death "without a bias of any kind."
"The investigation is being carried out without a bias of any kind," he said. "It is true that it is the responsibility of the State to maintain the life of the detainees, but the actions of the detainees are not the responsibility of the State, the investigation will go as far as it can, but may not be to get the truth."
Follow Ben Kew on Facebook, Twitter at @ben_kew, or email him at bkew@breitbart.com.
http://feedproxy.google.com/~r/breitbart/~3/hZUnyY_UAF4/