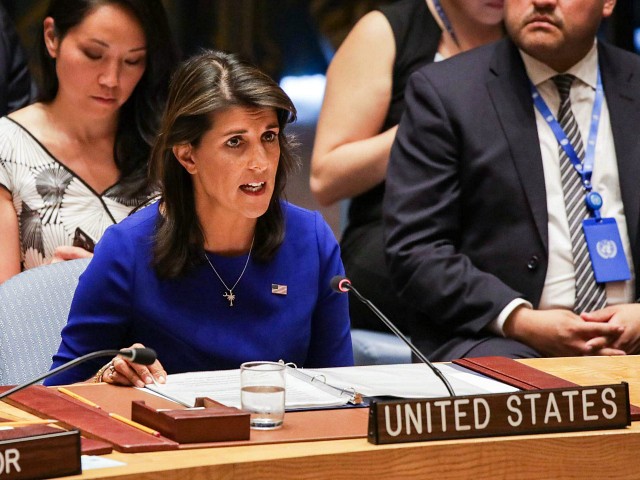 The United States called an emergency meeting of the U.N. Security Council on Monday to discuss "efforts by some member states to undermine and obstruct North Korea sanctions violations."
At the hearing, U.N. Ambassador Nikki Haley said the U.S. has "evidence of consistent and wide-ranging Russian violations."
"Why after voting for sanctions eleven different times is Russia backing away from them? We know the answer. Its because Russia has been cheating. And now they've been caught," she said.
Reuters reports Haley said Russia "was helping North Korea illegally obtain fuel through transfers at sea, had refused to expel a North Korean who the council blacklisted last year and had pushed for changes to an independent U.N. report on sanctions violations to cover up breaches by Russians."
Haley said the United States has monitored 148 incidents of oil tankers delivering banned fuel to North Korean ships at sea. She did not specify how many of those transfers were directly attributed to Russia.
The Wall Street Journal on Sunday reported seeing the U.N. report on sanctions violations Haley mentioned. In the report, investigators concluded the sanctions against North Korea have been rendered "ineffective" by cheating from Russia, China, and other allies of the regime in Pyongyang.
In addition to illegal oil transfers, the report called out Chinese firms for buying iron, steel, and other banned products from North Korea and maintaining illegal business partnerships with North Korean operations. The North Koreans were accused of raising money with illicit weapons sales to customers such as the Houthi rebels in Yemen.
Russia blocked the release of the U.N. report at the end of August, claiming it contained some inaccurate information about the caps on North Korean oil sales.
"Step by step, sanction by sanction, and time and time again, Russia is working across the board to undermine the sanctions regime," Haley said on Monday, stressing the importance of keeping all sanctions in place until significant progress is made on denuclearization.
Russia's ambassador to the United Nations, Vassily Nebenzia, insisted Moscow is not trying to block the release of the U.N. report — which he said was written by "hostages to the vision of Washington" — and accused the U.S. of pushing too hard against North Korea.
"It is impossible to come to an agreement if you offer nothing in return for your demands," Nebenzia said. "Sanctions cannot replace diplomacy."
The Russian ambassador accused Haley of making an "emotional statement" to manipulate the Security Council.
China's ambassador Ma Zhaoxu likewise declared sanctions a "dead end" and warned, "Resorting to force will bring nothing but disastrous consequences."
Haley fired back that Russia is pursuing a strategy to "deny, distract, and lie" about violating North Korea sanctions.
"Lying, cheating, and rogue behavior have become the new norm of the Russian culture," she said.
"The final, fully verified denuclearization of North Korea is the international community's over-riding objective," said Haley. "The evidence no longer allows us to take Russia's word that it shares this objective. Russia must now demonstrate by its deeds that it shares our objectives in North Korea."
http://feedproxy.google.com/~r/breitbart/~3/nVFEwHUgPUA/