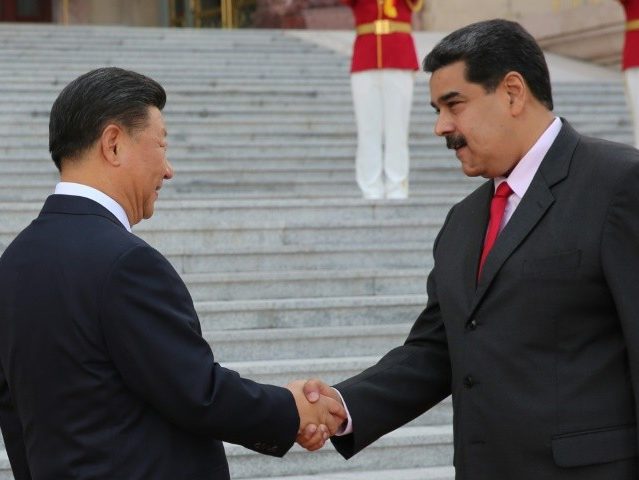 China's state-run Global Times newspaper boasted of Beijing's expanded presence in Venezuela on Sunday, noting that the "U.S. is skeptical for geopolitical reasons" of growing ties between socialist dictator Nicolás Maduro and Communist Party chief Xi Jinping.
Maduro visited China from Thursday to Sunday, seeking funds to keep his regime afloat. Thanks to nearly two decades of socialist mismanagement of the economy and violent repression of opposition voices, Venezuela is currently undergoing the worst humanitarian crisis in its history. The International Monetary Fund (IMF) predicts that Venezuela's inflation rate will reach 1,000,000 percent by 2019, the nation suffers a near-complete shortage of the basic medications needed for a functional health care system, and growing numbers of Venezuelans are relying on eating garbage to survive.
Venezuela's economic situation became so frayed in the past two years that China, one of the nation's largest creditors under dictator Hugo Chávez, has cut off Venezuela's credit line since 2016.
Since Maduro visited Beijing last week, however, China's tune has changed towards the country. The Times has identified Venezuela as a prime target for the country's One Belt, One Road (OBOR) infrastructure initiative, designed to give China control over the world's most important roads, ports, and railways. When Xi Jinping first announced the program, OBOR was intended to reconstruct the ancient Silk Road from Beijing to western Europe. China has since expanded the scope of the project to unrelated regions like southern Africa and Latin America.
In a piece detailing relations between Venezuela and China on Sunday, the Global Times declared, "It is undeniable that the presence of China in Venezuela is getting stronger every day, of which the US is skeptical for geopolitical reasons." While noting that Venezuela's economic collapse was "worrisome" for Chinese businesses and investors, the piece noted that China has invested heavily in telecommunications, agriculture, and especially oil in the country. Venezuela boasts the world's largest known oil reserves, doing little to help the country fix its dire economic situation as Maduro insists on giving the oil away to countries like Cuba for ideological support.
The Global Times applauds cooperation between China and Venezuela on military issues, claiming that China has given the Maduro regime "military planes K-8W, vehicles, equipment, technical service, new systems and parts" which the Venezuelan military has used to injure and kill unarmed protests.
Beijing announced on Thursday that it agreed to grant Venezuela a $5 billion credit line, the first since 2016, to help Maduro stay in power. Venezuela is reportedly expected to pay that money back in oil cooperation, a "strategic alliance on gold mining," and handing over other resources. The loan will reportedly function similarly to other OBOR loans handed out in Africa, where China has threatened to seize government property if outstanding debts remain unpaid.
Prior to Maduro landing in Beijing, the Global Times directly made the OBOR comparison, suggesting that Venezuela, despite being nowhere near the ancient Silk Road, "is more experienced and better equipped to cooperate with China, and the country may set an example for implementing the China-proposed Belt and Road initiative in the region."
"As Venezuela shifts its priorities from political power struggles to economic reform, the country has positioned China as a significant partner for cooperation," an "expert" identified as Sun Yanfeng argued in the propaganda outlet.
The loan came as a surprise after a 2017 in which Chinese propaganda outlets warned investors to stay out of Venezuela and a major Chinese state-run corporation sued Petroleum of Venezuela (PDSVA) over a failure to pay its loans.
During his meeting with Maduro, Xi Jinping urged the two nations to "cement political mutual trust, maintain the momentum of high-level exchanges, and integrate their bilateral friendship in all aspects of cooperation."
Xi promised that "China will continue to support the Venezuelan government's efforts in seeking stable development and a development path suited to its national conditions, and China is willing to strengthen exchanges with Venezuela on governance." He also pressured Maduro to sign a "memorandum of understanding" on OBOR.
Maduro did not sign such an agreement but reportedly told Xi "Venezuela is willing to actively participate in the construction of the Belt and Road, explore effective financing methods, strengthen cooperation in such areas as energy and production capacity, and expand people-to-people exchanges," according to Chinese media.
Returning to Caracas on Monday, Maduro announced on Twitter that his visit to Beijing was "a week full of great achievements for the benefit of our people" and "a total success."
Ha sido una semana de grandes logros para el beneficio de nuestro pueblo. Venezuela abre sus puertas al mundo y recibe todo el apoyo necesario para alcanzar un futuro de éxito y prosperidad. pic.twitter.com/JYsFQmsphy

— Nicolás Maduro (@NicolasMaduro) September 17, 2018
Un éxito total ha sido nuestra Visita de Estado a la República Popular China. Me siento optimista del futuro de Venezuela. Avanzamos seguros con el respaldo de nuestra hermana mayor. pic.twitter.com/jCfltBchES

— Nicolás Maduro (@NicolasMaduro) September 16, 2018
Venezuelan media noted, however, that large as the new loan appears, China did not agree to provide any direct aid to help the Venezuelan people, instead indebting the country further. Prime Minister Li Keqiang, in particular, suggested that China was "ready to provide whatever help Venezuela needs," but failed to mention aid funds.
Follow Frances Martel on Facebook and Twitter.
http://feedproxy.google.com/~r/breitbart/~3/MQTAVvteim4/