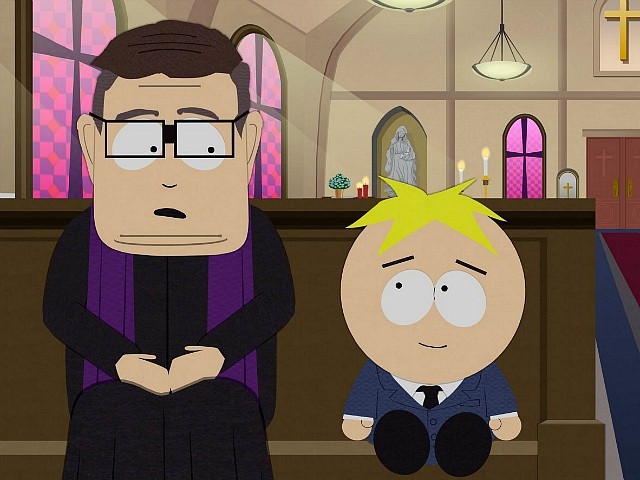 The raunchy Comedy Central animated series South Park tackled clerical sex abuse in its October 3 episode titled "A Boy and a Priest," drawing the ire of some commentators.
In the episode, which the A.V. Club described as "an especially dark outing," the citizens of South Park are portrayed as going to church for no other reason than to make jokes about priests abusing children.
Unlike its former crack at the Church's sex abuse crisis of 2002 in the episode "Red Hot Catholic Love," South Park focused on the ineptness of the Catholic hierarchy's attempts to address the situation by having the church send in "The Cleaning Crew," a group of disingenuous bishops and cardinals to ostensibly take care of the problem.
The character of Father Maxi is presented as the lone fighter against priestly abusing and the episode ends with him going on a rampage, killing the Cleaning Crew by mowing them down with a Kumboni.
Dr. William Donahue of the Catholic League called the South Park creators "cowards" for failing to tell the unpleasant truth behind the story, namely that the majority of abusers are homosexual predators rather than pedophiles.
"The October 3rd episode of 'South Park,' titled 'A Boy and a Priest,' portrayed molesting priests as pedophiles," Donahue noted. "This is factually inaccurate: almost all the molesters—8 in 10—have been homosexuals. Therefore, the cartoon-victim characters should have been depicted as adolescents, not kids."
"In Hollywood, the creators of 'South Park,' Trey Parker and Matt Stone, are seen as courageous. They are really cowards. It takes courage to tell the truth," he added.
Follow Thomas D. Williams on Twitter Follow @tdwilliamsrome
http://feedproxy.google.com/~r/breitbart/~3/GEP-k_5uk0o/