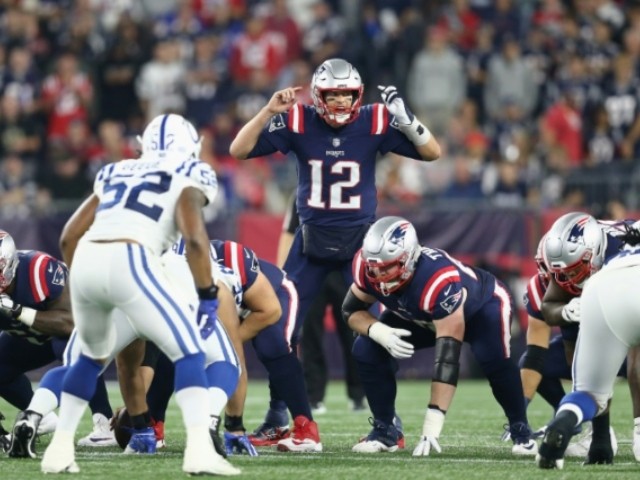 Tom Brady became the third player in NFL history to throw for 500 touchdowns when he connected with wide receiver Josh Gordon in a 38-24 win over the Indianapolis Colts on Thursday.
Brady reached the milestone in the fourth quarter when he linked up with Gordon on a 34 yard pass to join Peyton Manning and Brett Favre as the lone quarterbacks to throw for 500 TDs. Manning retired with 539 touchdowns and Favre finished with 508.
"I think all these things like that, milestones, there are so many people that contribute, all the people that have really worked hard," Brady said. "A quarterback doesn't throw to himself. These are all great team awards. Pretty cool."
Brady used all his weapons on Thursday night, hitting running back James White 10 times for 77 yards and throwing seven passes to Julian Edelman as the Patriots won their second consecutive contest after a rough start to the season.
Gordon was recently acquired from Cleveland and Edelman was playing his first game since injuring his knee in the 2017 preseason. Edelman was suspended for the first four games this year for violating the league's anti-drug policy.
"We wanted to get him the ball and he made some great plays," Brady said of Edelman. "Good to have him out there. We all want it to be perfect when we go out and it was great to have him out there."
Brady also recorded his 226th win, moving him into a tie with Colts kicker Adam Vinatieri for the NFL lead.
This was the Colts' first visit to New England's Gillette Stadium since the "Deflategate" scandal. The Colts loss in the 2014 AFC championship game led to a league probe of alleged underinflated balls by the Patriots. Brady would take the brunt of the punishment after the league slapped him with a four-game suspension that he served in 2016.
The Colts were severely depleted on Thursday, missing five starters: receiver T.Y. Hilton (hamstring), tight end Jack Doyle (hip), running back Marlon Mack (hamstring), tackle Denzelle Good (personal) and cornerback Kenny Moore (concussion). The injuries kept mounting during the game.
http://feedproxy.google.com/~r/breitbart/~3/dG2JEjk2CRo/