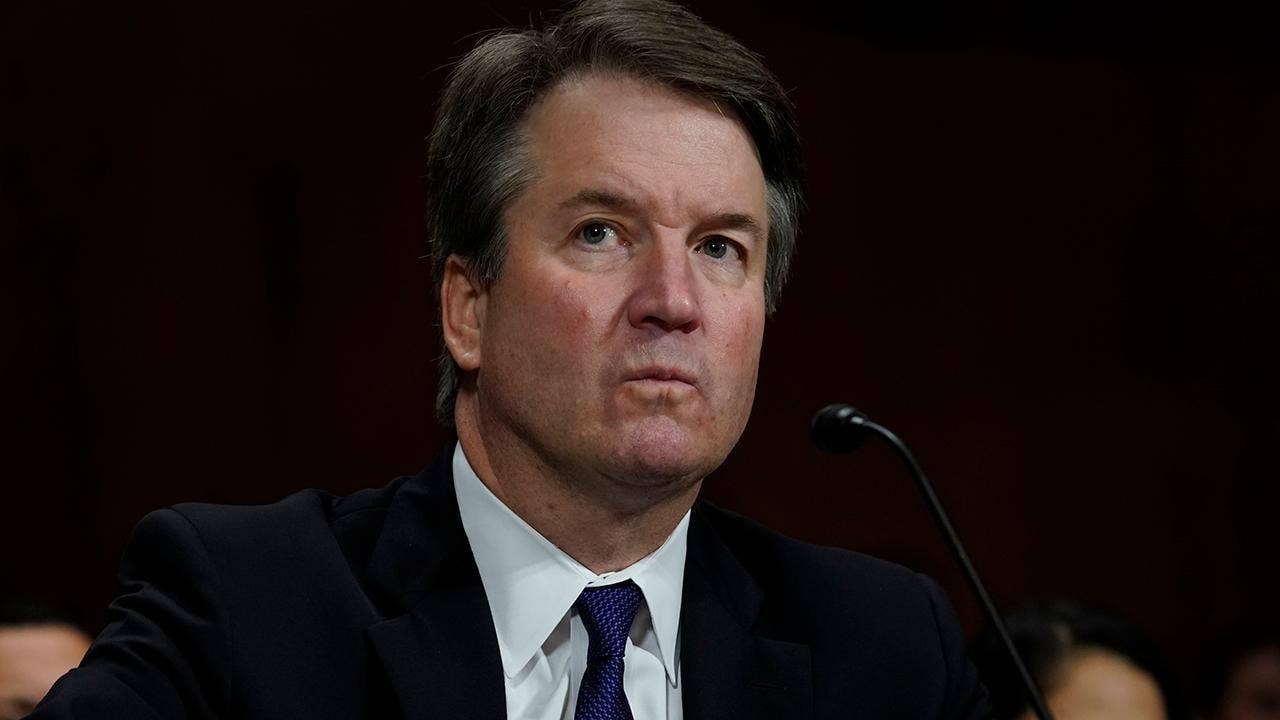 The Senate Judiciary Committee endorsed Judge Brett Kavanaugh in a party-line vote Friday afternoon, sending his Supreme Court nomination to the full Senate a day after an emotional hearing where a California professor leveled sexual assault allegations that he adamantly denied.
The committee voted 11-10 to recommend Kavanaugh, with previously undecided Republican Sen. Jeff Flake, R-Ariz., boosting the nominee with his late-breaking support.
However, that support came with a last-minute caveat. After meeting with Democrats behind closed doors ahead of the vote, Flake emerged to call for a delay in the full floor vote to allow for an FBI investigation "limited in time and scope." 
He backed Kavanaugh in the committee vote, but said he'd only be "comfortable" moving on the floor if the FBI investigates further. 
He said the pause should last for no more than one week. 
The call throws into doubt whether Kavanaugh can win enough support. The FBI and Trump administration previously have balked at another investigation. But Republicans have a slim 51-49 majority and can afford few defections. 
With Flake's tentative "yes," there are now 48 pledged Republicans, with Sens. Susan Collins, R-Maine, and Lisa Murkowski, R-Alaska, the two remaining wild cards. Sen. Mike Enzi, R-Wyo., has not announced his stance, but is expected to support the nominee. Republicans need 51 votes to confirm. 
The vote followed another heated committee meeting, with some Democratic senators walking out in protest and Republicans decrying the process as a "freak show."   
The Senate is likely to launch next into full debate over the weekend, with a final vote likely early next week.
The committee meeting started with the kind of political drama that has characterized the past several weeks, even as the Senate has tried to vet serious allegations of sexual assault against Kavanaugh.
Sens. Amy Klobuchar, D-Minn., Kamala Harris, D-Calif., and Mazie Hirono, D-Hawaii, walked out of the meeting in protest. Klobuchar later returned.
Once the speeches started, Democrats issued furious broadsides against Republicans, calling for them to delay the vote pending a full FBI investigation — something Republicans have already denied as unnecessary.
Sen. Cory Booker, D-N.J., said that "this is not a partisan moment, it is a moral moment in our nation."
"The pernicious patriarchy in this country must stop," he said before calling for a delay. When he finished his remarks, he snatched up his papers and rushed out of the meeting.
Sen. Sheldon Whitehouse, D-R.I., said that the court was "flying all the flags of a captured agency dancing to special interests' tune and ramming through precedent and principle to get there."
"This will be a disaster for the court and I believe Kavanaugh will contribute to that disaster," he said.
Sen. Dick Durbin, D-Ill., meanwhile, attacked Kavanaugh for his remarks at the committee hearing Thursday when he blasted Democrats and those seeking "revenge on behalf of the Clintons."
Republicans did not back down on their rhetoric, with Sen. John Kennedy, R-La., decrying an "intergalactic freakshow."
"Congress has hit rock bottom and started to dig," he said.
Outside the committee room, Hirono told reporters that "the American people need to stand up and see this railroad job for what it is."
Also outside the committee, one swing Democratic senator, Joe Donnelly of Indiana, announced he would oppose Kavanaugh, citing in part the refusal to launch a new FBI probe into the allegations.
"I have deep reservations about Judge Kavanaugh's nomination to this lifetime position and, as I stated, we have been unable to get all the information necessary regarding this nomination," he said in a statement.
The committee vote came a day after an angry and emotional hearing on allegations of sexual assault made against Kavanaugh. Both Kavanaugh and Christine Blasey Ford, who accused Kavanaugh of assaulting her at a high school party in 1982, testified before the committee on Thursday in an eight-hour session.
Ford said she's "100 percent" sure Kavanaugh assaulted her.
Kavanaugh emotionally denied Ford's accusation, along with a number of others made against him in recent days. Kavanaugh trained his sights on committee Democrats.
"This confirmation process has become a national disgrace," Kavanaugh said. "The Constitution gives the Senate an important role in the confirmation process. But you have replaced advise and consent with search and destroy."
Democrats pushed back, asking Kavanaugh why he would not himself call for an FBI investigation into the charges against him. Kavanaugh responded that he would assent to whatever the committee decided, but noted that an FBI probe wouldn't draw conclusions, only gather information.
Kavanaugh's nomination is likely to see unanimous or near-unanimous opposition from Democrats, with only a few red-state Democrats even considering a vote for Kavanaugh.
On Friday, Senate Judiciary Committee Ranking Member Dianne Feinstein, D-Calif., blasted Kavanaugh's testimony and said it showed him to be "aggressive and belligerent" and took issue with his attacks on Democrats.
"I have never seen anyone who wants to sit on the highest court in the land behave in that manner," she said.
Republicans' thin majority in the Senate at large gives the GOP very little room for defections. Sources told Fox News that former President George W. Bush has been making calls to Republican senators in an effort to help secure the confirmation.
Kavanaugh's nomination will see a timetable of votes including a procedural vote to launch debate on Saturday, a procedural vote to end debate and overcome a filibuster on Monday. That timetable would set up a final confirmation vote on Tuesday.
Fox News' Chad Pergram, Peter Doocey and Shannon Bream contributed to this report.
http://feeds.foxnews.com/~r/foxnews/politics/~3/Gt8LXsjmhO4/senate-judiciary-committee-advances-kavanaugh-nomination-in-party-line-vote.html