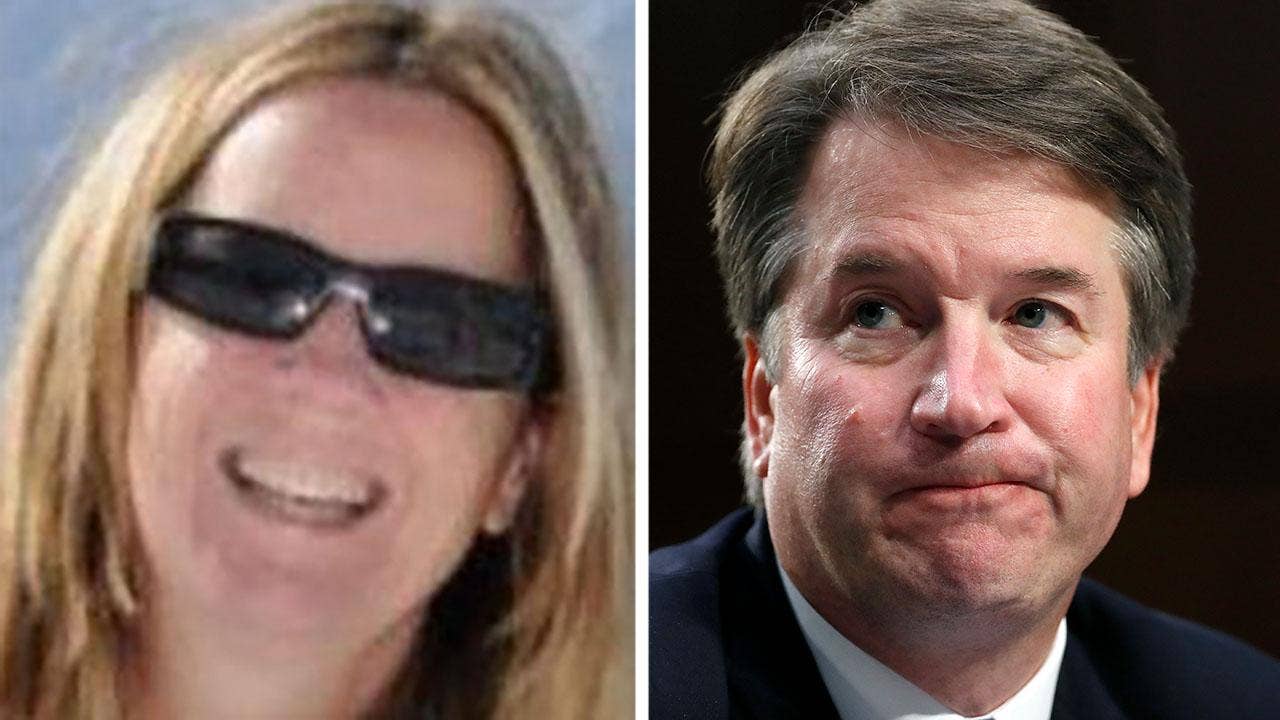 Senate Democrats on Thursday called for the FBI to investigate threats against Christine Blasey Ford, the woman accusing Supreme Court nominee Brett Kavanaugh of sexual assault more than three decades ago.
But they pointedly did not request a similar probe of threats against Kavanaugh or his family.
In a letter to FBI Director Christopher Wray and joined by all Democratic members of the Judiciary Committee, Sen. Patrick Leahy, D-Vt., calls for federal authorities to take "immediate action … to investigate potential federal crimes against Dr. Christine Blasey Ford."
The Democrats, saying the threats involve laws against interstate threats of violence, as well as federal witness intimidation and obstruction laws, add in the letter that they "strongly believe that how Dr. Blasey Ford is treated in this moment reflects upon how seriously our nation treats credible claims of sexual assault, and whether we have learned from past mistakes."
A crowdfunding campaign started by a Georgetown law professor has raised more than $200,000 for Ford, ostensibly to help defray her private security costs and raise funds for "women's organizations.'
READ THE DEATH THREATS SENT TO KAVANAUGH, FORD (WARNING: GRAPHIC LANGUAGE)
The Democrats do not mention threats against Kavanaugh or his wife, Ashley, in the letter, nor do they request any other FBI actions relating to Kavanaugh. Fox News has confirmed the contents of some of those threats against Kavanaugh's family, which is receiving protection from federal officials.
"Please tell your rapist, lying, cheating, corrupt b—h of a husband to put a bullet in his ugly f—–g skull," one email to Kavanaugh's wife this week read. "My condolences to you for being married to a rapist. Although you probably deserve it."
"Please tell your rapist, lying, cheating, corrupt b—h of a husband to put a bullet in his ugly f—–g skull."

– Email to Ashley Kavanaugh
Meanwhile, Sen. Sheldon Whitehouse, D-R.I., a member of the Judiciary Committee, vowed Thursday that Democrats would doggedly investigate Kavanaugh even if he is confirmed by the Senate.
"As soon as Democrats get the gavels," Whitehouse told CNN — referring to control of the Senate — they will "get to the bottom" of the allegations.
And Sen. Richard Blumenthal, D-Conn., said late Thursday that while he would not threaten or promise any future investigation, "more facts will come out, inevitably."
Blumenthal, also a member of the Judiciary Committee, told CNN on Thursday evening that the FBI should also investigate threats against Kavanaugh or "any other public official."
Earlier Thursday, Ford's attorneys said she "would be prepared to testify next week" — apparently backing off their bid for the FBI to first launch a new inquiry into her allegations against Kavanaugh.
In an email to the Judiciary Committee obtained by Fox News, Ford lawyer Debra Katz indicated Ford would appear as long as senators provide "terms that are fair and which ensure her safety." 
PURPORTED WITNESS DELETES ONLINE ACCOUNT AFTER INCONSISTENCIES EMERGE
"As you are aware, she has been receiving death threats, which have been reported to the Federal Bureau of Investigation, and she and her family have been forced out of their home," the email continued. "She wishes to testify, provided that we can agree on terms that are fair and which ensure her safety."
Senate Republicans had invited Ford to testify at a hearing on Monday, and gave her a Friday deadline to indicate whether she would attend. 
For his part, Kavanaugh, in a letter to the Judiciary Committee on Thursday, indicated he would be ready and willing to testify on Monday. "I continue to want a hearing as soon as possible, so that I can clear my name," he wrote. "Since the moment I first heard this allegation, I have categorically and unequivocally denied it. I remain committed to defending my integrity."
But a Monday hearing appears unlikely. In the letter Thursday, Ford's attorney wrote that it "is not possible" for Ford to testify on Monday. She added that "the committee's insistence that it occur then is arbitrary in any event."
Ford's openness to testifying threatened to once again impact  Kavanaugh's confirmation process. Senate Republicans had said that if Ford stuck to her apparent refusal to testifiy, they would have moved forward with a vote on Kavanaugh on Wednesday. That vote is now in doubt.
TOP DEM ADMITS SHE'S NOT SURE KAVANAUGH ACCUSER BEING ENTIRELY 'TRUTHFUL'
However, the attorneys concluded: "Her strong preference continues to be for the Senate Judiciary Committee to allow for a full investigation prior to her testimony."
In a series of tweets earlier Thursday, the Judiciary Committee said it has been doing just that, and had already interviewed — under penalty of felony — three of the four members at the party where the alleged sexual assault occured, including Kavanaugh and his friend Mark Judge. 
Ford's "attorneys say there needs to be an investigation, which is exactly what the committee has been doing all week," the GOP members wrote. "And we would love to hear from Dr. Ford. Democratic staff is invited to participate fully every step of the way."
Ford, who has acknowledged she could not remember exactly when or where the alleged sexual assault incident happened more than three decades ago, had been under intense pressure to make her allegations against Kavanaugh under oath. She reportedly had asked a friend over the summer whether she had ever confided in her that she had been sexually assaulted, and was told that she had not.
Kavanaugh denied the allegations when he spoke under oath with Senate Republican staff earlier his week, Fox News has learned. Democratic Judiciary Committee members and staff refused to participate in those closed-door proceedings.
The California professor said she was reluctant to come forward and did so only because her hand was forced by the media. She wrote a letter outlining her allegations in July that was received by  Sen. Dianne Feinstein, D-Calif., but Feinstein did not mention them to other senators or federal investigators until last week.
Feinstein, the top Democrat on the Judiciary Committee, has said she was motivated by a desire to protect Ford's identity, but Republicans countered that she could have mentioned the allegations without naming Ford.
GRASSLEY UNLOADS ON FEINSTEIN FOR 'SITTING' ON EXPLOSIVE SEX ASSAULT ACCUSATION
According to a scathing letter sent by the committee chair, Chuck Grassley to top Democrats this week, Feinstein actually compromised Ford's privacy by waiting so long and allowing information about her letter to leak to the media just days before a key vote on Kavanaugh's confirmation.
Grassley, R-Iowa, also blasted Feinstein for failing to disclose to Republicans an unredacted version of the July 30 letter she'd received.
"I cannot overstate how disappointed I am," Grassley wrote, charging that Feinstein "chose to sit on the allegations until a politically opportune moment."
http://feeds.foxnews.com/~r/foxnews/politics/~3/Ndt_f1VxvjU/senate-dems-urge-fbi-to-probe-threats-against-ford-those-against-kavanaugh-and-kin-unmentioned.html