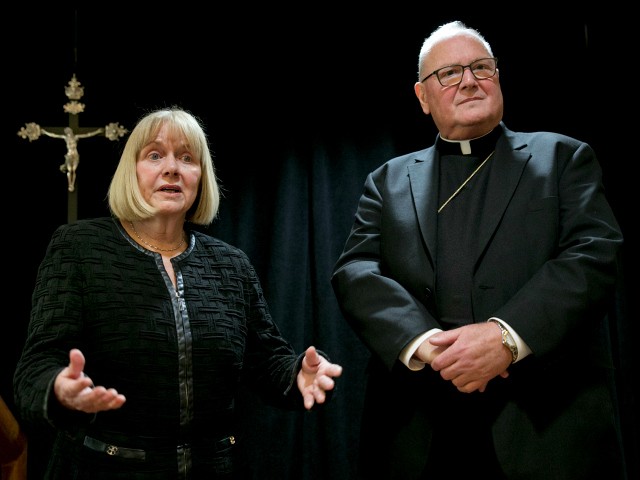 New York Cardinal Timothy Dolan has taken the proactive step of hiring a former federal prosecutor to assist the Archdiocese of New York in dealing with the clerical sex abuse crisis.
As sex abuse scandals have rocked the Catholic Church in the United States and abroad, Dolan announced Thursday that he had hired Barbara S. Jones, former Federal Judge and prosecutor, to serve as "Special Counsel and Independent Reviewer."
The task of the new special counsel is "to review, evaluate, and recommend improvements to the Archdiocese of New York's response to the sexual abuse crisis currently confronting the Church."
At his press conference Thursday morning, Dolan spoke of the "Summer of hell" for the Catholic Church, with "the scandal of Theodore McCarrick," "the nauseating detail of the Pennsylvania Grand Jury of horrific abuse of minors by priests," and "the controversy around the Archbishop Vigano letter."
The cardinal said that the overwhelming response to the crisis from the faithful, the clergy, and the wider community has been a call for "accountability, transparency, and action."
Dolan described the task he has set before Judge Barbara Jones in the following terms: "an exhaustive study of our policies, procedures, and protocols on how we deal with any accusation that comes to us about an alleged abuse of a young person by a priest, deacon, or a bishop."
The cardinal also said that Judge Jones would have "complete access" to all archdiocesan records and personnel, including Dolan himself.
The archdiocese is also asking the new special counsel to help "enhance and strengthen" existing protocols for accusations of inappropriate behavior by anyone abusing his or her position of authority.
Cardinal Dolan's announcement followed a statement Wednesday from the U.S. bishops introducing sweeping measures intended to streamline reporting of sexual abuse and ensure that justice is done to victims.
In their statement, the bishops said they were grateful for the assistance of the people of God in "holding us accountable," and went on to launch measures that move beyond the sexual abuse of minors to include all forms of sexual abuse, harassment, and misconduct.
In the wake of revelations of decades-long homosexual abuse by Cardinal Theodore McCarrick, much of which involved men who were not legally minors, the bishops' statement extends the sort of abuse to be reported to include "sexual harassment of or misconduct with adults, including seminarians and priests."
The new statement lays out four specific actions "within its authority," which also put pressure on the Vatican to complete these actions with measures that fall within its unique competence.
Follow Thomas D. Williams on Twitter Follow @tdwilliamsrome.
http://feedproxy.google.com/~r/breitbart/~3/PeeEANYlQWE/