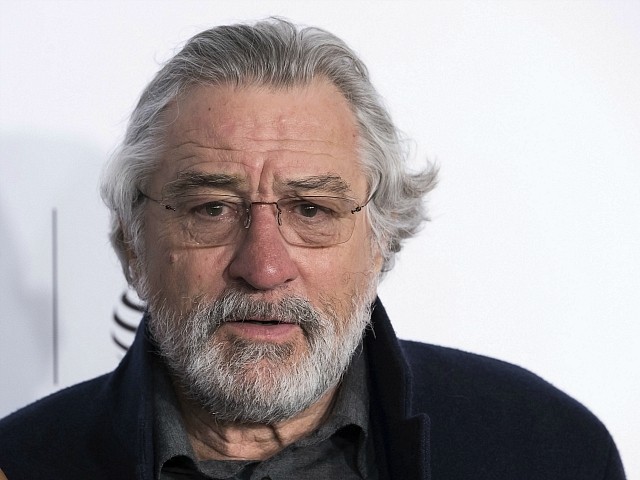 Actor Robert De Niro said Republicans working to push through President Donald Trump's agenda are "making a deal with the devil," while also praising anti-Trump Republican Jeff Flake as an "American hero."
In an interview on Saturday Night Live star Alec Baldwin's new ABC weekly talk show, The Alec Baldwin Show, De Niro said he was "offended" by both the Trump presidency and the actions of Republican lawmakers.
"I'm so offended by this person and by the Republicans in general, and how they've behaved, and we see it with the Kavanaugh thing going on right now," De Niro said. "And when I see [Trump], I know what he is, and he knows what he is, because everything he says about other people—you're a loser, you're a this, you're a that—is everything he's saying about himself. He's so transparent; he's projecting."
"I've just never seen anything like it," Baldwin continued. "And I've seen a lot in this world, and the years that I've been around, but this is totally surreal, and I felt that I had to say something—whatever I can say, whatever influence I can have, I don't know. But it's infuriating, with this guy."
The Mission Impossible: Fallout star went on to declare his admiration for Sen. Jeff Flake (R-AZ), a prominent anti-Trump Republican who considered voting against Brett Kavanaugh's confirmation to the Supreme Court. De Niro warned that Republicans helping to push through Trump's agenda are in fact "making a deal with the devil."
"I saw Jeff Flake at the Global Citizens thing the other day at Central Park, and I said, 'You're an American hero. What you've done is heroic,'" he explained. "That's a guy with feelings. He's actually conflicted. You can see it with the ladies [who confronted him] in the elevator. And I don't understand why some of these Republicans aren't like, 'I'm out of here.'"
"Many of these people who are now with Trump are going to be tainted for the rest of their lives," he continued. "They think they want to be with him and it's going to give them something, but they are paying such a price [in] making a deal with the devil. It's scary."
The 72-year-old actor has ramped up his harsh criticisms of Trump and the conservative agenda, revealing in the run-up to the 2016 presidential election that he would like to punch the then-presidential candidate in the face. During a speech to high school students in June, De Niro also went on a bizarre rant where he compared Trump to Nazi leader Adolf Hitler.
"We're in a dangerous situation… you know with Hitler, with other despots, people didn't take them seriously, they laughed at them," he remarked. "And then what happened, they turned around and it was too late. We can't let that happen in this country and you guys are the ones to do it."
"[He's] s a congenital liar. A mean-spirited, soulless, amoral, abusive con-artist son of a bitch. Fuck Donald Trump," he added. "And I say this, cause I am not political, but I am now. You guys are the future."
Follow Ben Kew on Facebook, Twitter at @ben_kew, or email him at bkew@breitbart.com.
http://feedproxy.google.com/~r/breitbart/~3/htlq3_lY2B8/