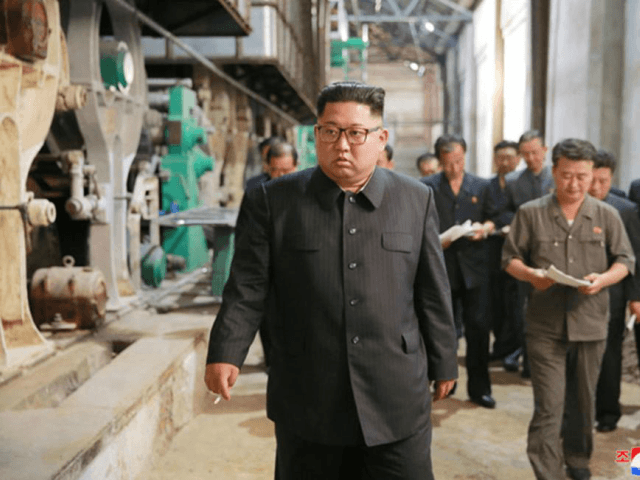 North Korea intensified its nuclear activities following the historic meeting between the rogue nation's dictator Kim Jong-un and U.S. President Donald Trump in June, the Heritage Foundation's 2019 Index of U.S. Military Strength noted this week.
Released on Thursday, the Heritage index identified "an active and growing North Korean ballistic missile capability" as one of the top threats facing the United States along with China, Russia, Iran, and jihadist groups.
Referring to the June 12 meeting between Trump and Kim, the conservative Heritage think-tank reported:
The Singapore Communique may be the first step toward North Korea's denuclearization after eight failed diplomatic attempts during the past 27 years, but as of July 2018, there has been no decrease in North Korea's WMD [weapons of mass destruction] arsenal or production capabilities.

To the contrary, the U.S. Intelligence Community assessed that Pyongyang had increased production of fissile material for nuclear weapons, and satellite imagery showed upgrades to missile, reentry vehicle, missile launcher, and nuclear weapon production facilities.
Heritage's assessment of North Korea's nuclear capabilities came soon after the Trump administration announced that U.S. Secretary of State Mike Pompeo would be traveling to meet with Kim on Sunday in preparation for a second denuclearization summit between the dictator and the American president.
For months now, the Trump administration has been trying to convince Kim to take credible steps towards the complete, verifiable, and irreversible denuclearization of the Korean Peninsula in exchange for relief from international sanctions.
Echoing U.S. military and independent analyses, Heritage's assessment of North Korea's nuclear capabilities contradicted President Trump's assertion soon after meeting with Kim that "[t]here is no longer a nuclear threat from North Korea."
As he acted to maintain economic sanctions on North Korea days after making those comments in June, President Trump ultimately conceded that the regime poses an "unusual and extraordinary threat" to U.S. national security.
The Trump administration has said that all U.S. sanctions will remain in force until North Korea takes credible steps towards ridding the peninsula of nukes.
In its most recent annual Worldwide Threat Assessment, the U.S. intelligence community deemed the North Korean nuclear menace one of "the most volatile and confrontational WMD threats to the United States."
North Korea is "committed to developing a long-range, nuclear-armed missile that is capable of posing a direct threat to the United States," the intelligence community determined.
Citing experts like David Albright of the Institute for Science and International Security, Heritage estimated, "North Korea has perhaps 30 or more nuclear weapons."
On Wednesday, a South Korean minister told lawmakers in his country that Kim is estimated to have 20 to 60 nuclear weapons.
http://feedproxy.google.com/~r/breitbart/~3/e2BD_XQ8iBY/