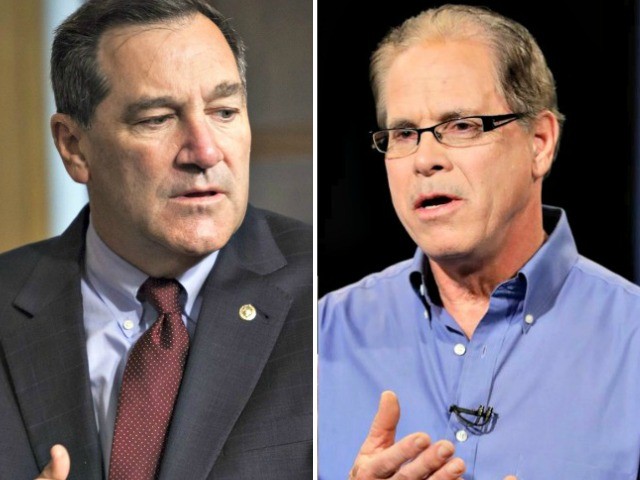 Hoosier businessman and Senate Republican candidate Mike Braun has surged in the Indiana Senate race only two weeks before the November election, according to a poll released on Monday.
Sen. Joe Donnelly's popularity has continued to plummet ever since he decided to vote against Judge Brett Kavanaugh for the Supreme Court. Since the Senate confirmation vote, the incumbent Democrat's favorability and his polling has bottomed out.
According to a recent poll conducted by the Braun campaign from October 14-17, Braun leads Donnelly by 44 to 40 percent, with seven percent backing Lucy Brenton, and five percent of voters remain undecided.
The survey also found Braun leads with those having the highest level of enthusiasm for voting in the midterm elections, a seven-point advantage with those with high propensity voters, and a seven-point advantage with voters who have an opinion of both candidates.
The poll found that three-factor have led to Donnelly's increasing vulnerability in the Indiana Senate race, which includes:
Donnelly's inability to garner more than 40 percent ballot support.
Donnelly's approval ratings have eroded to the point where roughly the same amount of Hoosiers approve as disapprove of the incumbent
Donnelly has a net unfavorable rating, while Braun gained a net favorable rating.
According to the poll, Braun has a 41 percent favorable rating, while the Hoosier businessman has a 34 percent unfavorable rating. In contrast, Sen. Donnelly has a 42 percent unfavorable rating, while 41 percent of Hoosiers have a negative view of the incumbent Democrat.
Further, 45 percent of Indiana voters believe that Donnelly serves as part of the "problem" in Washington, DC, compared to only 34 percent that the Democrat serves as part of the "solution" to America and Indiana's problems.
Donnelly has tried to run away from assuring Hoosier voters that he is more moderate than he appears. Three weeks ago, Sen. Donnelly ran an ad in which he tried to obfuscate his past involvement in his family company that outsourced jobs to Mexico. Braun has continued to attack Donnelly for sending Hoosier jobs to Mexico, while touting the fact that he hires Hoosiers at above market-wages.
Braun tweeted last week that Donnelly tries to paint himself as a moderate; however, the businessman claims that Donnelly votes 70 percent of the time with Democratic socialist Sen. Bernie Sanders (I-VT).
"Democrat Donnelly tells Hoosiers he's in the middle, but in DC he votes with socialist Bernie Sanders over 70% of the time," Braun wrote. "Like Bernie said today, Donnelly will "say what he wants to say" but when it comes time to vote, the Democrats need him."
Democrat Donnelly tells Hoosiers he's in the middle, but in DC he votes with socialist Bernie Sanders over 70% of the time. Like Bernie said today, Donnelly will "say what he wants to say" but when it comes time to vote, the Democrats need him. #INSen pic.twitter.com/3tJ5rN6vZG

— Mike Braun (@braun4indiana) October 19, 2018
For the full results of the latest polling, see below:
http://feedproxy.google.com/~r/breitbart/~3/Fskx2lxceV4/