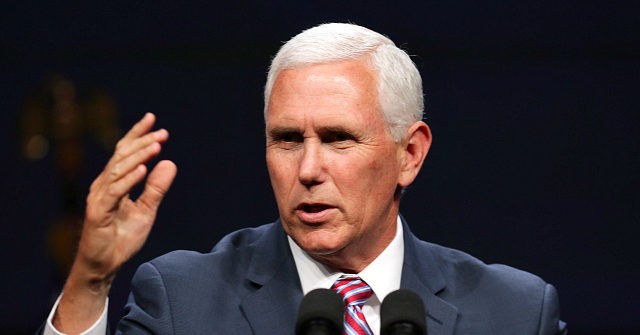 Arizona Republicans are divided on whom they believe should be the vice presidential nominee on the 2024 Republican presidential ticket, a recent J.L. Partners survey found.
The survey found former President Donald Trump taking the clear lead in the hypothetical 2024 Republican primary race, leading his closest potential challenger — Florida Gov. Ron DeSantis — by 23 points, with 47 percent support:
Arizona 2024: Trump holds 23-point lead for Republican Nomination

Trump — 47%
DeSantis — 24%
Cheney — 4%
Pence — 4%
Haley — 3%
Ramaswamy — 2%
Pompeo — 1%
T. Scott — 1%

2-Way:
Trump — 52%
DeSantis — 35%@JLPartnersPolls | 04/10-12 | 550 LVhttps://t.co/2rjs6YEvYr pic.twitter.com/NbxWvpvmvP

— InteractivePolls (@IAPolls2022) April 17, 2023
The survey also showed Trump with majority support in a head-to-head matchup with DeSantis in the Grand Canyon State. But while there seems to be a clear preference for the GOP presidential candidate, registered Republican voters appear to be more uncertain about the vice president.
Twenty-two percent said they would like to see Kari Lake as the vice presidential candidate, followed by 15 percent who indicated former U.S. ambassador to the U.N. Nikki Haley. Another eight percent said Dr. Ben Carson, followed by seven percent who said South Dakota Gov. Kristi Noem and six percent who said former Rep. Tulsi Gabbard, who left the Democrat party last year.
VIDEO — Tulsi Gabbard: I'm Leaving the Democratic Party… "I Invite You to Join Me"
@TulsiGabbard / Twitter
Another five percent said they would like to see former Vice President Mike Pence in that role again, and five percent also chose Sen. Tim Scott as their top VP choice. Three percent of Arizona Republican voters chose Rep. Marjorie Taylor Greene, three percent chose anti-woke businessman Vivek Ramaswamy, and two percent chose Virginia Gov. Glenn Youngkin.
Notably, nine percent said "someone else," and another 15 percent said they remain unsure.
The survey was taken April 10-12, 2023, among 550 likely Arizona Republican primary voters. It has a +/- 4.2 percent margin of error.
At this point, it remains unclear what former Vice President Mike Pence's plans are, as many speculate a 2024 presidential bid, which would put him right against Trump. However, Pence stated during an appearance on Fox & Friends last week that he will likely reveal his final decision in "weeks and not months."
"We continue to get a tremendous amount of encouragement around the country," Pence stated during the television appearance. "I'll be back in Iowa next week. We're going to continue to listen, discern, and we're going to continue to pray about where we might best serve."
He continued:
Look, I think the country is in a lot of trouble right now, and I think now is the time for all of us that have had the privilege of serving, for me serving as a leader in the Congress, serving as governor here in Indiana, serving as vice president during a consequential, conservative administration for four years. We just want to continue to reflect on what our duty is.
Pence, again, said he is receiving "encouragement" and predicted there will be "a clearer idea of what the Pences will decide in weeks and not months."
https://www.breitbart.com/politics/2023/04/21/arizona-republicans-divided-gop-vice-president-choice-5-say-mike-pence/