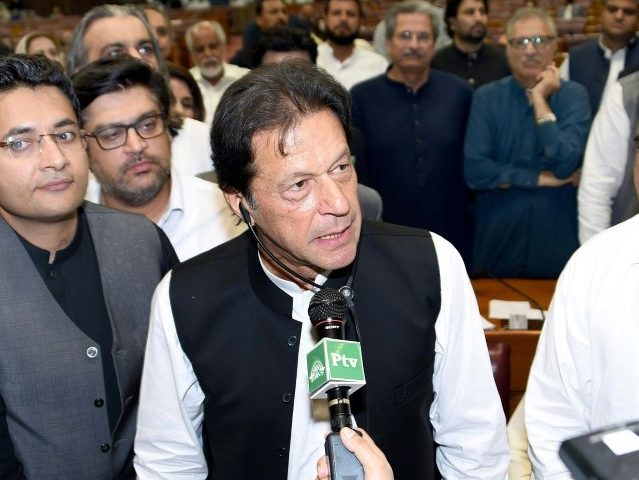 Prime Minister Imran Khan, while in Beijing on Friday to request more financial aid, indicated that Islamabad wants to emulate and "learn" from China's "phenomenal achievements" in tackling poverty and corruption as it comes to grip with Pakistan's "very difficult economic situation."
"Our country is very impressed the way China has progressed. China's phenomenal achievements are worth emulating. No other country has tackled poverty and corruption the way China has tackled it," PM Khan declared during his first official visit to China on Friday, Dawn reports.
"Pakistan wants to learn from China's experience in poverty alleviation and curbing corruption," he added.
In response, Pakistan's closest ally China promised "to provide support and help to the best of its ability" for Islamabad's economic woes, Reuters reports, adding, "Pakistan's foreign reserves have plunged 42 percent since the start of the year and now stand at about $7.8 billion, or less than two months of import cover."
Pakistan secured a $6 billion rescue package from Saudi Arabia, but Islamabad still needs a bailout from the International Monetary Fund (IMF) to prevent a balance of payments crisis.
IMF has provided 12 rescue packages since the late 1980s, Reuters noted.
At Beijing's Great Hall of the People, Khan also said:
My party has only been in power for two months. Unfortunately, we have inherited a very difficult economic situation. Countries go in cycles. They have their high points; they have their low points. Unfortunately, our country is going through a low point at the moment with two very big deficits, a fiscal deficit, and a current account deficit. And so we, as I've said, have come to learn.
Xi responded by saying Beijing values its "all-weather" relationship with Islamabad.
"I attach great importance to China-Pakistan relations and am willing to work together with the prime minister to strengthen the China-Pakistan all-weather strategic partnership and build a new era of China-Pakistan destiny," the Chinese leader proclaimed.
Neither Xi nor Khan mentioned additional economic aid from Bejing to Islamabad.
Nevertheless, China insisted it would not let Pakistan down.
State Councillor Wang Yi, the Chinese government's top diplomat, reportedly told Pakistani Foreign Minister Shah Mahmood Qureshi in a separate meeting: "The Chinese side will continue to provide support and help to the best of its ability for Pakistan's economic and social development and national construction."
Khan will return to Pakistan with "good news and a good package", Pakistan's Information Minister Fawad Chaudhry told reporters on Friday, according to GEO News.
Referring to the Khan-Xi meeting, Radio Pakistan noted:
The historic meeting of the two leaders will reinforce shared commitment to take all-weather and time-tested Pakistan-China friendship to new heights and would further strengthen the existing multifaceted equation of the two countries for the benefit of the two countries and the region.

The entire gamut of Pak-China strategic relations would be discussed during the meeting.
"Though China is Pakistan's closest ally, Khan's newly elected government has sought to re-think the two countries' signature project, the $60 billion China-Pakistan Economic Corridor (CPEC), which Beijing touts as the flagship infrastructure program in its vast Belt and Road Initiative," Reuters pointed out.
http://feedproxy.google.com/~r/breitbart/~3/-hQwbVOpEFE/