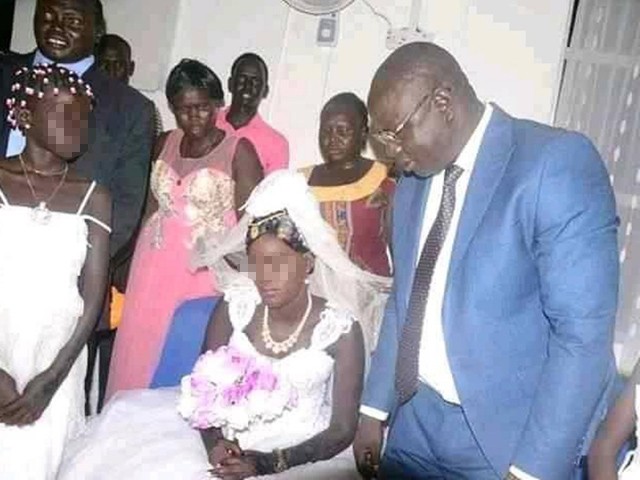 More details have been revealed about a child bride from South Sudan who was sold through Facebook, which the social network only took action on two weeks after the auction post had been made. The girl, now 17, is reportedly the man's ninth wife.
The girl from South Sudan, now 17-years-old, was sold by her family to a man three times her age following a bidding war with "at least four other men," according to the Associated Press (AP).
Despite various appeals made by human rights group, a 16 year old girl child became a victim to an online marriage auction post, which was not taken down by Facebook in South Sudan. Sinking part is that people are now opting for social media for fulfilling orthodox rituals. pic.twitter.com/tj4cMADeFN

— H4Human (@h4humanrights) November 20, 2018
Her family reportedly received, "Five hundred cows, two luxury cars, $10,000, two bikes, a boat and a few cell phones," as part of the deal.
"Earlier this month, Nyalong became the man's ninth wife. Photos posted on Facebook show her sitting beside the groom, wearing a lavish dress and staring despondently at the floor," revealed AP, which only published the girl's first name, and noted that among her bidders was "the state's deputy governor."
Earlier this week, it was reported that the girl was sold through Facebook, and that the social network failed to take action against the auction post until two weeks after it had been published.
In a statement, Plan International's South Sudan Country Director, George Otim, declared, "This barbaric use of technology is reminiscent of latter-day slave markets. That a girl could be sold for marriage on the world's biggest social networking site in this day and age is beyond belief."
Facebook responded to the incident by claiming that it had permanently suspended the account which made the post.
"Any form of human trafficking — whether posts, pages, ads or groups is not allowed on Facebook. We removed the post and permanently disabled the account belonging to the person who posted this to Facebook," stated a Facebook spokesman to Business Insider. "We're always improving the methods we use to identify content that breaks our policies, including doubling our safety and security team to more than 30,000 and investing in technology."
Facebook has previously had problems with human trafficking on its platforms, including the Facebook-owned Instagram.
In October, four Indonesians were arrested after they allegedly sold babies on Instagram.
A September report also revealed Facebook had become a hotbed for illegal animal trading, including endangered animals which are banned from sale internationally.
http://feedproxy.google.com/~r/breitbart/~3/BtyDe4yIJ3w/