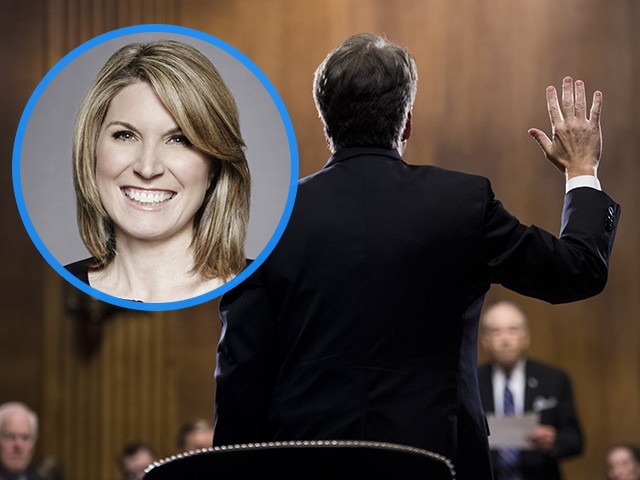 MSNBC anchor Nicolle Wallace claimed Thursday that Supreme Court nominee Brett Kavanaugh's opening statement before the Senate Judiciary Committee Thursday embodied the "carnage" phrase that establishment media fixated on after President Donald Trump's inaugural address.
"That is the human carnage Donald Trump promised in his inauguration address." @NicolleDWallace discusses Kavanaugh's opening statement pic.twitter.com/HLiJOCmH4X

— MSNBC (@MSNBC) September 27, 2018
Asked by fellow MSNBC anchor Brian Williams for her thoughts on Kavanaugh's testimony, Wallace said: "I'm thinking about Donald Trump's inauguration address and the line about human carnage. We've seen a lot of it today. The stories from Professor Ford and her family, what they've been through and the story about Judge Kavanaugh's daughters, talking about praying for Professor Ford and Ashley Kavanaugh's face while he was telling that story and Brett Kavanaugh crying every time he talked about his parents and his wife and his kids and all his friends, men and women. That's the 'human carnage' that Donald Trump promised in his inauguration address."
The line was a misquote, both in content and in context, of Trump's inaugural speech. Rather than "promise" carnage in the future, Trump said that the "carnage" of crime, poverty, and drugs "stops right here and stops right now."
Americans want great schools for their children, safe neighborhoods for their families, and good jobs for themselves.

These are the just and reasonable demands of a righteous public.

But for too many of our citizens, a different reality exists: Mothers and children trapped in poverty in our inner cities; rusted-out factories scattered like tombstones across the landscape of our nation; an education system, flush with cash, but which leaves our young and beautiful students deprived of knowledge; and the crime and gangs and drugs that have stolen too many lives and robbed our country of so much unrealized potential.

This American carnage stops right here and stops right now.
Wallace continued: "A couple things I learned about how this speech came to be, Brett Kavanaugh ripped up a set of remarks that have been circulated for feedback and notes and approval yesterday. He wrote this himself. I heard from two sources close to Kavanaugh that this was not a performance that had anything to do with the Supreme Court. It's a performance that had to do with his life. And I say 'performance' because I knew Brett Kavanaugh for — I worked with him in the White House for years and I never saw that side of him. So it was authentic and real. It may not have helped him."
The MSNBC anchor then said that Kavanaugh's passionate defense may have damaged the perception of his testimony: "It may have hurt him. It may have helped him. But it was raw emotion, and I've never seen that side of him. It was a rebuke of this moment in politics, and I think the question now is, does that overlap with his legislative goals, which is to win enough votes on this Committee to have his nomination forwarded to the full Senate? And I have no idea."
http://feedproxy.google.com/~r/breitbart/~3/DE02kAKH6e8/