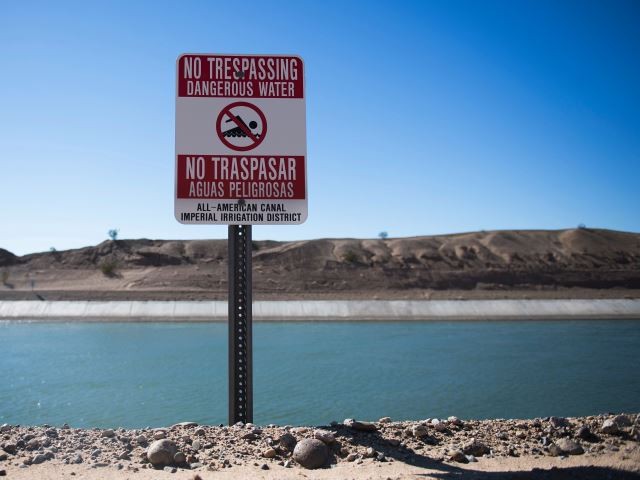 Border Patrol agents stationed in California were unable to save a migrant from drowning as heavy rains flooded into the All American Canal near Calexico.
El Centro Sector Border Patrol agents assigned to the Calexico Station witnessed three men attempting to cross the All American Canal about two miles west of the Gran Plaza Outlets near Calexico Wednesday night, according to U.S. Customs and Border Protection officials. Two of the men safely crossed while the third struggled in the heavy currents.
Agents took the two men into custody for illegally crossing the border from Mexico. They observed the third man having difficultly staying afloat but were unable to rescue him due to the heavy rains and low visibility. Border Patrol Search, Trauma, and Rescue (BORSTAR) agents quickly arrived on the scene but were also unable to rescue the man before he disappeared.
Agents resumed their search in the morning when conditions improved. The BORSTAR agents found the submerged body of the man about an hour later. His body traveled about 150 yards from where he attempted the illegal border crossing.
The agents recovered the body and turned him over to the Imperial County Coroner's Office. They were unable to determine the identity and nationality of the migrant. However, the two men he traveled with were from El Salvador, officials stated.
Officials did not disclose if the Salvadorans were part of the migrant caravan.
"This incident tragically illustrates how human smuggling organizations place migrants in perilous situations," El Centro Sector Chief Patrol Agent Gloria I. Chavez said in a written statement. "This man put his trust in human smugglers and it cost him his life."
At least 16 migrants have died this year during or shortly after illegally crossing the border near Calexico, according to the International Organization for Migrants' Missing Migrant Project. Approximately 370 died along the entire U.S.-Mexico Border. This represents a near 10 percent increase compared to the same period last year.
While almost half of the recovered remains have yet to be identified, officials report that nearly 100 of the deceased migrants came from Central America. The exact number of actual deaths is never known because many deceased migrants are never found.
Bob Price serves as associate editor and senior political news contributor for Breitbart Border/Cartel Chronicles. He is a founding member of the Breitbart Texas team. Follow him on Twitter @BobPriceBBTX and Facebook.
http://feedproxy.google.com/~r/breitbart/~3/Kn1Zy9x2nz8/