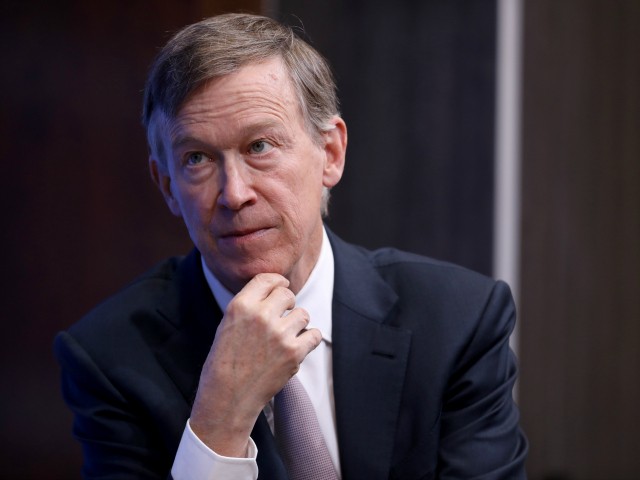 CNN New Day host Alisyn Camerota asked presidential hopeful and Democrat Colorado Gov. John Hickenlooper on Monday morning if he as a "white guy" should run for the White House in 2020.
(Watch: 0:53 – 4:06):
Colorado Gov. John Hickenlooper on President Trump: "We're seeing all kinds of evidence that the Trump presidency isn't succeeding. It's not taking America where it needs to go. It certainly isn't fulfilling his promises to the rural parts of America." pic.twitter.com/g4ibsk67qf

— New Day (@NewDay) December 10, 2018
A partial transcript is as follows: 
CAMEROTA: President Trump has an uncanny ability to keep all eyes on him. He certainly can command a rally. He is a big presence in a room. How do you win against that?

HICKENLOOPER: Oh, you know, it's funny. He's a big presence in the room, but it's all based around a bluster. In a basic way, he's kind of a bully. You step back and you look at him. You know, you grow up a skinny kid with thick glasses and a name like Hickenlooper, I grew up dealing with bullies on the playground. It's not that hard, right? A) You ignore them, and when they say something that's antagonistic, you twist it just a little bit so they become the butt of their own attack. In other words, you use humor to marginalize them. You know, if people don't pay attention to a bully, they get frustrated and go away.

CAMEROTA: Lessons you learned on the playground. There's a book in there. Here is the list of potential Democratic candidates, and it's long already. I can go through it. Beto O'Rourke, Vice President Joe Biden, Elizabeth Warren, Kamala Harris, Cory Booker, Bernie Sanders, you are on there, Terry Mcauliffe, Michael Bloomberg. You know the debate that the Democratic Party is having right now. Is it time to have somebody of color, a woman, and somebody younger, or somebody more establishment?

HICKENLOOPER: I think the Democrats across the country are going to help decide that, and I'm not sure it's clear what is exactly needed. But I do know there are a lot of strong opinions, and that list shows the strength of the Democratic Party. There are people there from all walks of life.

CAMEROTA: But as a white guy, are you trying to calculate whether this is the right time for you?

HICKENLOOPER: Well, this is the time that's worked out, right? I finish my term as governor in a month, and I have an opportunity to take what we did in Colorado. We went from 40th in job creation to the number one economy in the country. We have one of the top rural economies in the country. I think there's a point where somebody like me — I'm an entrepreneur, I'm a problem-solver, I've been bringing people together that have historically been antagonistic. Maybe the country needs someone who can bring parts of the country and the divided constituencies back together.
http://feedproxy.google.com/~r/breitbart/~3/5Ldkm9c84gE/