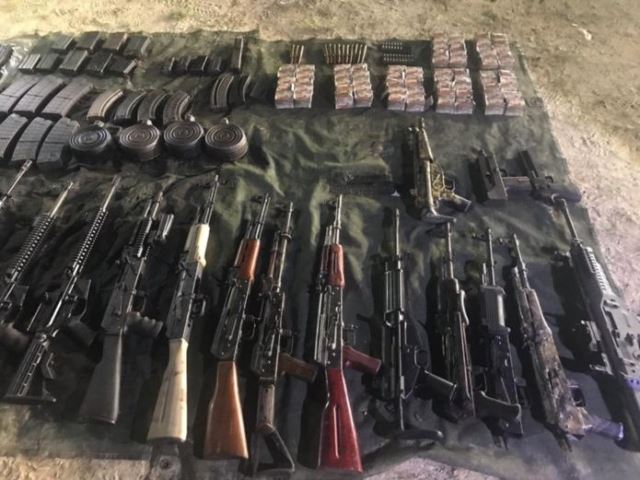 The Mexican Army discovered a large weapons cache on Tuesday after repelling an ambush by cartel gunmen in Sinaloa.
A Mexican Army convoy was patrolling a mountainous area in the municipality of Badiraguato before they discovered a large weapons cache at the scene of a cartel ambush, according to local media.
The suspected gunmen were able to wound three soldiers before fleeing. The soldiers were transported to a local hospital where one, an officer, died of his wounds. The others were airlifted to Culiacan and are in serious but stable condition.
The Army reported the seizure of 25 firearms to include AR-15s, an M-4, and AK-47s. Also seized were 68 rifle magazines of various calibers and 1,430 rounds. All weapons and ammo were transferred to the custody of the state attorney general's office, according to the Ministry of National Defense.
Sinaloa saw a 34 percent increase in homicides in 2017 for a total of 1,561 cases—but a 31 percent decrease of the same occurred in 2018, according to local reports.
Badiraguato, Sinaloa, is known to be the birthplace of jailed drug kingpin Joaquín "El Chapo" Guzmán, the infamous Sinaloa Cartel boss. Guzmán is currently in federal custody in New York waiting for a drug trafficking trail. Jury selection is slated to begin on November 4, 2018.
Robert Arce is a retired Phoenix Police detective with extensive experience working Mexican organized crime and street gangs. Arce has worked in the Balkans, Iraq, Haiti, and recently completed a three-year assignment in Monterrey, Mexico, working out of the Consulate for the United States Department of State, International Narcotics and Law Enforcement Program, where he was the Regional Program Manager for Northeast Mexico (Coahuila, Tamaulipas, Nuevo Leon, Durango, San Luis Potosi, Zacatecas.)
http://feedproxy.google.com/~r/breitbart/~3/UfTdM9LIftk/