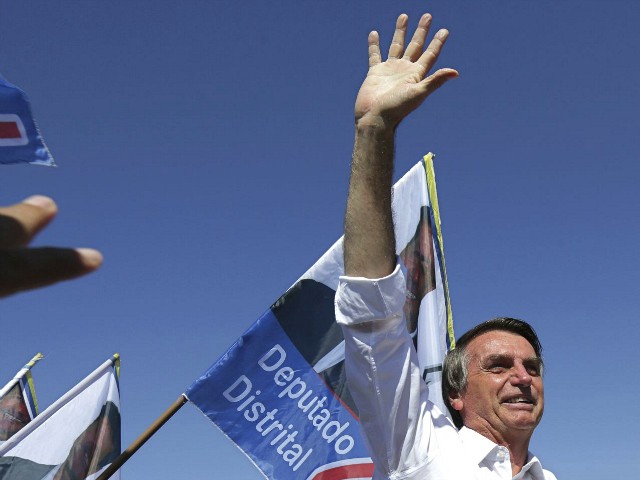 Brazil's conservative presidential candidate Jair Bolsonaro reached 39 percent support in a poll released Thursday, a new high placing him 14 points ahead of the second place candidate just three days from the national election.
Brazilians are scheduled to vote on October 7. To win the presidency, a candidate must receive 50 percent of the vote. If no candidate reaches that threshold, the government schedules a run-off vote between the top two vote-getters.
Bolsonaro, of the right-wing Social Liberal Party (PSL), does not appear close enough to the 50 percent threshold to prevent a second election, though reports this week indicate that the socialist Workers' Party (PT) has begun to launch attacks on Bolsonaro that it was hoping to hold onto until the run-off as Bolsonaro inches closer to the threshold and support for their candidate, Fernando Haddad, dwindles, leaving him in a dead heat for second place with Ciro Gomes of the Democratic Labor Party (PDT).
The Brazilian firm Datafolha released a poll Thursday finding Bolsonaro leading with 39 percent support, Haddad in second place with 25 percent, and Gomes at 13 percent. The Brazilian Social Democracy Party (PSDB) candidate Geraldo Alckmin rounds out fourth place with 9 percent.
The upward mobility for Bolsonaro in Datafolha's polling has been significant. Folha de Sao Paulo notes that he rose from 32 to 35 percent support over the past week, and was down to 28 percent support in a poll taken between September 26-28. This week, he was the only candidate whose support changed in either direction more than the two-percent margin of error.
Datafolha found Bolsonaro and Haddad in a statistical tie should they face each other in a run-off election.
The poll notes that, in the run-off round, "disapproval ratings are key," both at high rates for Bolsonaro and Haddad. Bolsonaro maintained a steady 45 percent disapproval rating, slightly higher than Haddad's 40 percent. Over 80 percent of those who said they would vote for either candidate said they were sure of their vote and would not change it.
The poll, while the most recent one available, was taken before last night's presidential debate. Bolsonaro did not attend the debate at the advice of his doctors; a socialist fanatic attempted to stab him to death in early September, and the candidate has yet to make a full recovery. Yet O Globo, whose parent Globo Network hosted the debate, called Bolsonaro the "star" of the show. As he was not there to defend himself, the other candidates dedicated their time largely to attacking the frontrunner, not each other.
http://feedproxy.google.com/~r/breitbart/~3/pbCPh86YIL4/