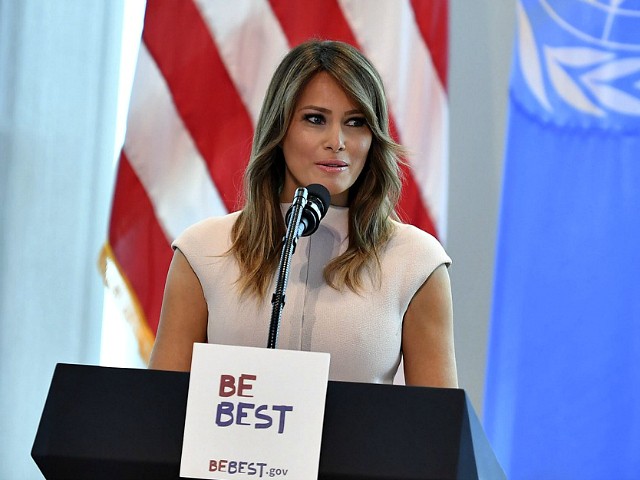 First lady Melania Trump said in an interview with ABC while touring Africa that she is enjoying her role despite the fact that she is continually bullied, even when she is trying to do charitable events.
"I could say I am the most bullied people in the world — one of them — if you really see what people are saying about me," Trump said in the interview, aired on Good Morning America on Thursday.
Trump said that is, in part, what inspired her to launch her BE BEST campaign to educate youth about the wise, safe, and positive use of social media and to prevent cyberbullying.
ABC also asked Melania Trump if she would look forward to six more years as the first lady if her husband, Donald Trump, wins re-election in 2020. 
"I believe that my husband is doing an incredible job for this nation," Trump said, adding that she will stand by him no matter what unfolds politically.
When ABC asked Trump whether some people working with the president cannot be trusted, she said there are, but some have left the administration.
But when asked if she thinks there are still people in his administration that are not trustworthy, Trump said "yes."
An amazing stop in the "warm heart of Africa" last week. The staff&children @ Chipala Primary School were filled w/ enthusiasm for education,key to success for generations to come. Thank u #Malawi for warm welcome&Prof. Mutharika for your hospitality! #FLOTUSinAfrica2018 #BeBest pic.twitter.com/93xirPlBhq

— Melania Trump (@FLOTUS) October 10, 2018
Trump just returned from her first solo trip to Africa as part of her BE BEST campaign. She visited Ghana, Malawi, Kenya, and Egypt to highlight programs that teach children life well-being skills.
The destinations were also chosen for each nation's work alongside the United States Agency for International Development (USAID) and partners that have made "great progress in overcoming some of their biggest challenges" in those countries.
Follow Penny Starr on Twitter.
http://feedproxy.google.com/~r/breitbart/~3/ELFAyG_G5_U/