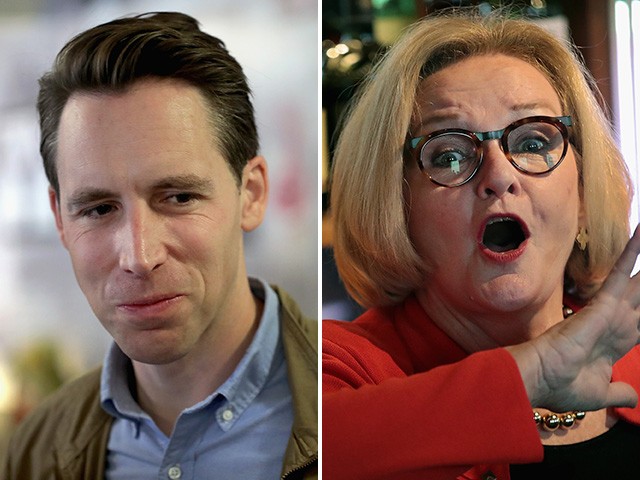 Fox News has projected that Republican nominee Josh Hawley will defeat incumbent Sen. Claire McCaskill (D-MO) to flip Missouri's U.S. Senate seat from Democrat to GOP control.
With 71 percent of precincts reporting, Hawley had 53.2 percent of votes cast to McCaskill's 43.7 percent.
Hawley's victory represented the third Senate seat that flipped from Democrat control to Republican control on Tuesday.
Republican Mike Braun defeated incumbent Sen. Joe Donnelly (D-IN) in Indiana, and Republican Rep. Kevin Cramer (R-ND-AL) easily defeated incumbent Sen. Heidi Heitkamp (D-ND) in North Dakota.
With these three flips from Democrat to Republican and no losses in the Senate by Republicans so far, Republicans are likely to have a net gain of two to four seats in the Senate, depending on how the Arizona race between Republican Martha McSally and Democrat Kyrsten Sinema and the Florida race between Gov. Rick Scott and Sen. Bill Nelson (D-FL).
Currently, there are 51 Republicans and 49 Democrats and Democrat-affiliated independents in the Senate.
The three races in Missouri, Indiana, and North Dakota had two key common elements: (1) President Trump won each state handily in 2016 and (2) the incumbent Democratic senators in those states voted against confirming Justice Brett Kavanaugh, who was confirmed by a 50 to 48 vote on October 6.
The only Democrat to vote to confirm Kavanaugh, Sen. Joe Manchin (D-WV) was re-elected in West Virginia, a state President Trump carried overwhelmingly in 2016.
"This was a David-versus-Goliath struggle from the start, but Josh Hawley overcame a torrent of political spending from Claire McCaskill and Chuck Schumer to win this very tough Senate race. Josh is going to be a great Senator and will give Missouri the kind of thoughtful conservative leadership the state deserves," Senate Leadership Fund President and CEO Steven Law said in a statement.
http://feedproxy.google.com/~r/breitbart/~3/IWEjPyEY6Uo/