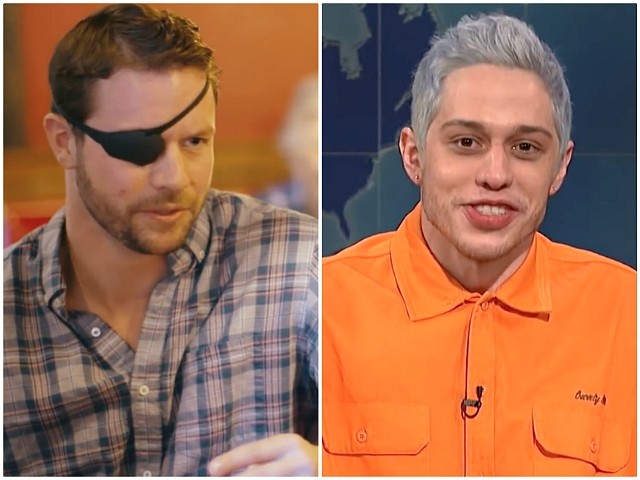 Former Navy SEAL Dan Crenshaw, a GOP candidate running for a U.S. House of Representative seat in Texas, talked to Sirius XM's Breitbart News Daily on Tuesday about being the target of a Saturday Night Live joke where performer Nick Davidson mocked his losing an eye while fighting in Afghanistan.
"There's lots of veterans with some kind of disfigurement or lost limbs and those wounds should not be the subject of a very bad joke and a really hysterically laughing audience. I don't see the humor in it," he told Breitbart News Daily host and Breitbart News Editor-in-Chief Alex Marlow.
Davidson said Crenshaw — who wears an eye patch — looked like a "hitman in a porno movie," and added, "I know he lost his eye in war or whatever." Laughter was heard from the audience throughout.
Crenshaw said the "hitman" part of the joke was "just kind of weird." But, he said, "it's really the second part, you know, the 'whatever' kind of commentary about a war wound — I just don't see the comedic value."
Crenshaw talked about what happened the day he was blinded. He was on his third combat tour, to Afghanistan.
"Six months into that deployment I was hit by about 15 pounds of explosives and a pressure plate IED, and it killed my interpreter right in front of me, and it blinded me completely," he said.
"Miracles in the operating room occurred and I was able to see again. Deployed a couple more times again, in more of an intelligence operations kind of role. I was eventually medically retired in 2016. Never really wanted to leave the military," he said.
He said his desire to continue serving is what led him into politics. "It's what got me up in the morning…this kind of sense of service to the public that I really cared about," he said.
If he wins election, he said one of his priorities would be border security. "People don't realize that we actually do have an issue on the border that does need to be solved, it does require resources," he said.
"We don't really like being told, 'there's nothing to see here, there's no problem. Why are you upset about this caravan, it's no big deal, just ignore it,' right? That's what CNN was telling me yesterday," he said.
He also defended President Trump's response to the migrant caravan headed for the U.S.
"Look, it's the president's job to execute the laws passed by Congress. And he's supposed to be prepared. He's not making a big deal out of the caravan, the caravan is making a big deal out of the caravan," he said.
"And when thousands and thousands of people are demanding illegal entry, it is something you have to deal with, and you should deal with it with humanity and kindness but also the law, right? And that's what we're talking about here."
http://feedproxy.google.com/~r/breitbart/~3/gDHs8hXxO1o/