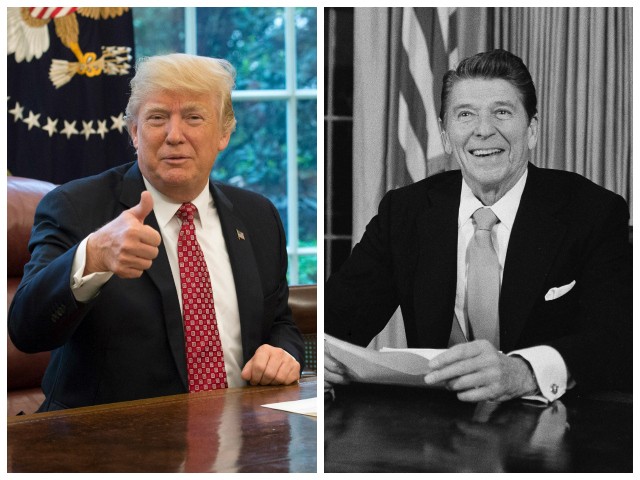 When President Donald Trump criticized the Federal Reserve for raising interest rates, headlines screamed that the president was breaking with tradition and described Trump's words as unprecedented.
Former Fed chairman Paul Volcker's memoir, however, makes it clear that Trump's criticism–which has always been accompanied by a reassurance that the president would not interfere with the independence of the Fed–was nothing compared to what happened during the Reagan administration.
According to Andrew Ross Sorkin:
The memoir is at times a dishy tale of Mr. Volcker's years in Washington. For example, while President Trump has complained in recent months about the Fed's plan to raise interest rates, he isn't the first to try to influence the independent Federal Reserve. Mr. Volcker recounts being summoned to meet with President Ronald Reagan and his chief of staff, James Baker, in the president's library next to the Oval Office in 1984.

Reagan "didn't say a word," Mr. Volcker wrote. "Instead Baker delivered a message: 'The president is ordering you not to raise interest rates before the election.'" Mr. Volcker wasn't planning to raise rates at the time.

"I was stunned," he wrote. "I later surmised that the library location had been chosen because, unlike the Oval Office, it probably lacked a taping system."
Breitbart News reported in July on the Reagan precedent for Trump's criticism of the Fed. It turns out that behind the scenes, the Reagan administration went even further than was known.
Reagan was openly critical of the Fed a number of times early in his administration. Many of his advisers and supporters thought that the Fed's policy of rate hikes was undermining the administration's attempts to revive economic growth through tax cuts and deregulation. Some even called for the impeachment of Volckerr.
Reagan went even further while campaigning in the 1982 midterm elections. At a campaign event in New Jersey, Reagan said that the Fed had been working well in the past several weeks, an implicit criticism of its policies before that. He also raised the question of whether the Fed would work better if the Treasury Secretary was its head, as was the case when the central bank was founded. That advocacy of directly undermining the Fed's independence was a shock to many at the time.
Reagan's Treasury officials said they were considering "initiating a study of proposals to restrict the power of the Federal Reserve Board. The possibilities cited then included having the board placed under the Treasury Department's authority, or putting the Treasury Secretary on the board," according to the New York Times.
http://feedproxy.google.com/~r/breitbart/~3/iVS7ZUsfUos/