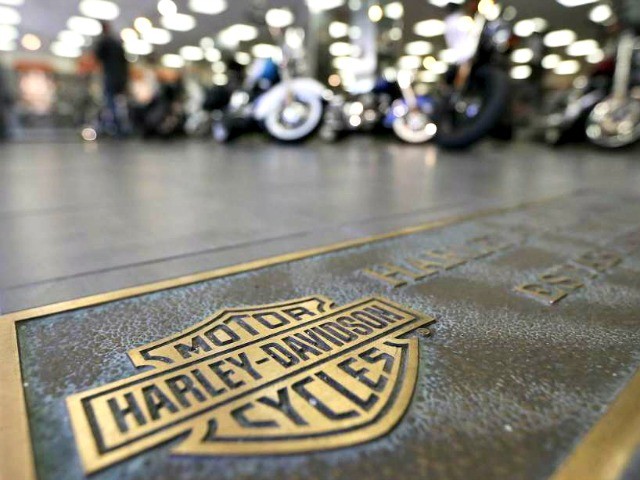 Harley-Davidson, the iconic American motorcycle brand, has suffered a drop in sales following the company's recent feud with President Trump over keeping U.S. jobs in the country.
Bloomberg reports that Harley-Davidson experienced a 13 percent decrease in sales, which is the company's largest quarterly drop in sales in more than eight years, after executives at Harley-Davidson feuded with Trump over tariffs on steel and aluminum imports.
Trump had hinted that American consumers should boycott Harley-Davidson due to their moving some of its United States manufacturing and production overseas after the European Union (EU) began imposing $3.2 billion worth of tariffs on U.S. products, including motorcycles.
In response, Trump blasted Harley-Davidson for using the tariffs as an "excuse" to move more of their U.S. manufacturing overseas.
Despite blaming tariffs, in January — before the tariffs — Harley-Davidson announced that it would be closing its plant in Kansas City and moving leftover production to York, Pennsylvania. The decision to close the Kansas City plant will result in about 260 American manufacturing workers losing their jobs.
In March, Harley-Davidson — which was saved by tariffs on imported motorcycles back in 1983 — slammed Trump's tariffs on imported steel and aluminum just as they were laying off hundreds of American workers and moving their jobs to Thailand, as Breitbart News reported.
In 2017, as Breitbart News reported, about 183 American workers were laid off by the motorcycle company in Kansas City and Menomonee Falls.
John Binder is a reporter for Breitbart News. Follow him on Twitter at @JxhnBinder. 
http://feedproxy.google.com/~r/breitbart/~3/kqrGNlB_PKU/