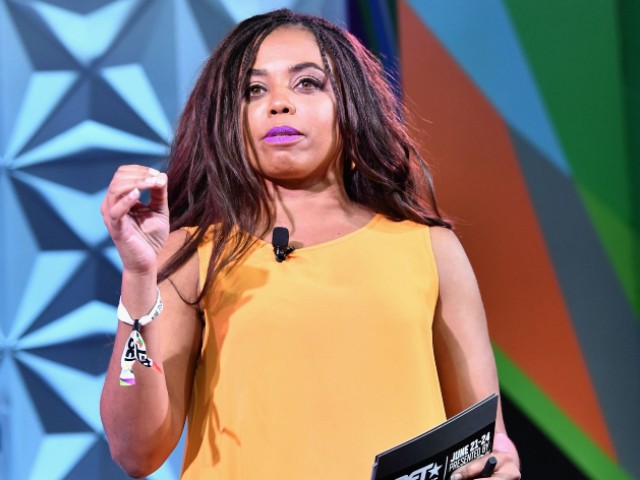 Former ESPN reporter Jemele Hill wasn't unemployed long. According to the Hollywood Reporter, Hill, who recently left ESPN after 12 years, will narrate LeBron James' upcoming Showtime series, "Shut up and Dribble," which debuts in November.
Hill received a lucrative buyout from ESPN in September, due to her often politically-charged commentary. The network decided to get away from political talk.
"There's been a big debate about whether ESPN should be focused more on what happens on the field of sport than what happens in terms of where sports is societal or politically," Bob Iger, the chairman of ESPN's parent company Disney told the Hollywood Reporter. "(ESPN President) Jimmy (Pitaro) felt that the pendulum may have swung a little bit too far away from the field. And I happen to believe he was right. He has brought back some balance."
One move to bring back "some balance" was moving on from Hill, who delved into politics quite a bit at ESPN. Most notably, when she accused President Donald J. Trump a "white supremacist" in September, 2017. After she tweeted this, White House Press Secretary Sarah Huckabee-Sander said, "That's one of the more outrageous comments that anyone could make and certainly something that I think is a fireable offense by ESPN."
James, one of the greatest basketball players ever, who now plays for the Los Angeles Lakers, has also been a major critic of Trump. In September of 2017, he referred to the President as a "bum" on twitter. This was after the President disinvited the Golden State Warriors from a White House visit honoring their 2017 championship.
"Going to the White House is considered a great honor for a championship team. (Warrior guard) Stephen Curry is hesitating, therefore invitation is withdrawn!" Trump wrote.
James responded quickly on Twitter, saying:"U bum @StephenCurry30 already said he ain't going! So therefore ain't no invite. Going to White House was a great honor until you showed up!"
James recently told CNN's Don Lemon that he sometimes feels like the country under Trump is going back to "some kind of slavery or Jim Crow."
Hill and James tweeted their excitement about working together:
@jemelehill is perfect for it!! Let's get it JH! 🙏🏾 https://t.co/SPFj3Ar7LT

— LeBron James (@KingJames) September 19, 2018
"Appreciate the opportunity," tweeted Hill. "Although I don't have hops, this is quite the alley oop."
Hill appreciates the powerful statement James made by hiring a black woman to narrate this three-part documentary.
"Lately LeBron has talked about gender and wanting to uplift and position black women in particular. I get the sense that this is all part of that," Hill told he Hollywood Reporter. "If you look at the societal ladder, black women remain on the lowest rung. He clearly understands that we are facing a unique battle. It means a lot that he understands the intricacies of that."
She also appreciate James' view of the current President.
"I think LeBron, like a lot of people, has been very frustrated by the behavior of this administration," Hill said."(African-Americans) feel very insulted and vulnerable within this time because of who's in charge."
Hill didn't explain why African-Americans feel "insulted and vulnerable" under Trump.
http://feedproxy.google.com/~r/breitbart/~3/RsqnIMdOp2o/