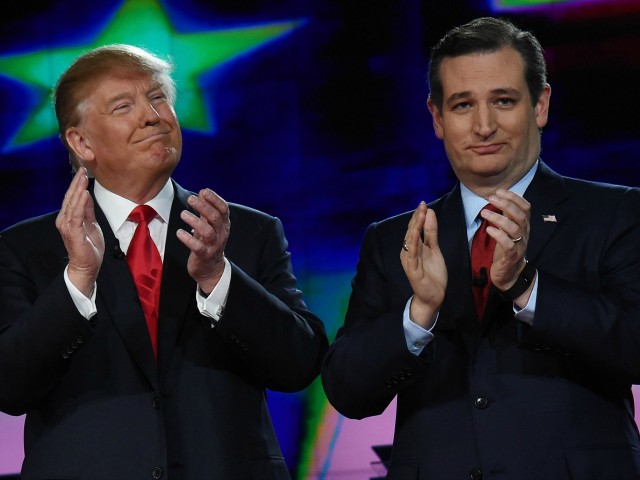 President Donald Trump emphasized his support for Sen. Ted Cruz's re-election campaign on Wednesday.
Trump revealed that he watched the Texas senator debate his leftist opponent, Beto O'Rourke, on Tuesday night.
"Ted has long had my Strong Endorsement!" Trump wrote on Twitter.
O'Rourke borrowed the president's attack line from the 2016 primary against Cruz during the debate.
"Senator Cruz won't be honest with you. He's dishonest," O'Rourke said. "It's why the president called him 'Lyin' Ted' and it's why the nickname stuck — because it's true."
But Trump said Cruz was more in line with Texas values: strong on crime, enforcing the border, supporting the Second Amendment, veterans, and low taxes.
"Beto is a Flake!" he wrote.
The president plans to campaign with Cruz at a rally in Houston on Monday:
Watched the debate last night & Beto O'Rourke, who wants higher taxes and far more regulations, is not in the same league with Ted Cruz & what the great people of Texas stand for & want. Ted is strong on Crime, Border & 2nd A, loves our Military, Vets, Low Taxes. Beto is a Flake!

— Donald J. Trump (@realDonaldTrump) October 17, 2018
Ted Cruz has done so much for Texas, including massive cuts in taxes and regulations – which has brought Texas to the best jobs numbers in the history of the state. He watches carefully over your 2nd Amendment. O'Rourke would blow it all! Ted has long had my Strong Endorsement!

— Donald J. Trump (@realDonaldTrump) October 17, 2018
http://feedproxy.google.com/~r/breitbart/~3/fdyVIAZM890/