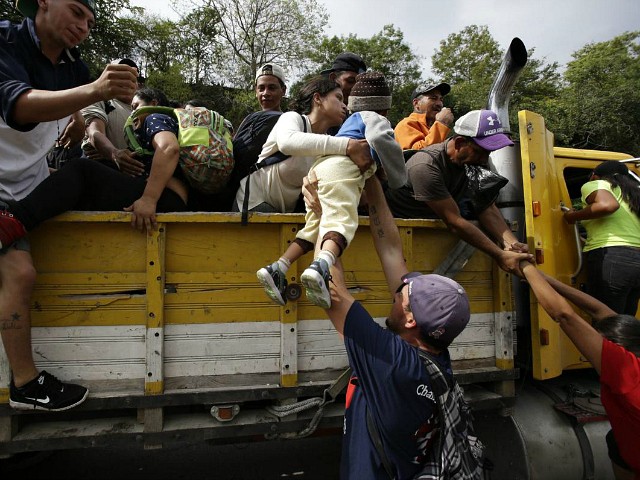 Homeland Security Spokesperson Katie Waldman said Mexican cartels yield $2.5 billion per year by smuggling people into America at a rate of about $5,000 per person. She offered her remarks on SiriusXM's Breitbart News Sunday in an interview with Breitbart News Deputy Political Editor Amanda House.
Waldman's comments were made in the context of a discussion related to a growing caravan of migrants — originating in Central America — demanding entry to America.
Waldman said, "We have an entire southwest border that is controlled by Mexican cartels. You can't gain access to the U.S. illegally without paying a smuggler $5,000 or $6,000 per head. It's a $2.5 billion a year industry to these cartels. You certainly see a lot of attention paid to this caravan."
Waldman added, "That's what they want at the end of the day. They want this media attention. … 400,000 apprehensions a year is not just this caravan, we need to be looking at the entire crisis."
LISTEN:
Waldman credited news media attention of the traveling caravan as showing Americans what Customs and Border Protection deals with on a daily basis.
"If the west is burning, I say this is a fire burning down at the border. We need to pay the proper attention and get something done here."
Last Friday, Pat Buchanan described the caravan as illustrative of an existential demographic threat to Western Civilization:
It's the signature issue of the president or just about the signature issue of controlling the border, securing the border, building the wall, halting illegal immigration. It's the major issue in Western Civilization right now.

The folks from the south who are dealing with repression and war and poverty and hardships all want to come north to Europe and the United States. And it enables Donald Trump to demonstrate he's a leader on this issue, this is his issue. And he can take action to secure the borders and prevent what is really a third world invasion of the West.
Breitbart News Sunday broadcasts live on SiriusXM Patriot from 7:00 p.m. to 10:00 p.m. Eastern.
Follow Robert Kraychik on Twitter.
http://feedproxy.google.com/~r/breitbart/~3/bcPiimnvi_c/