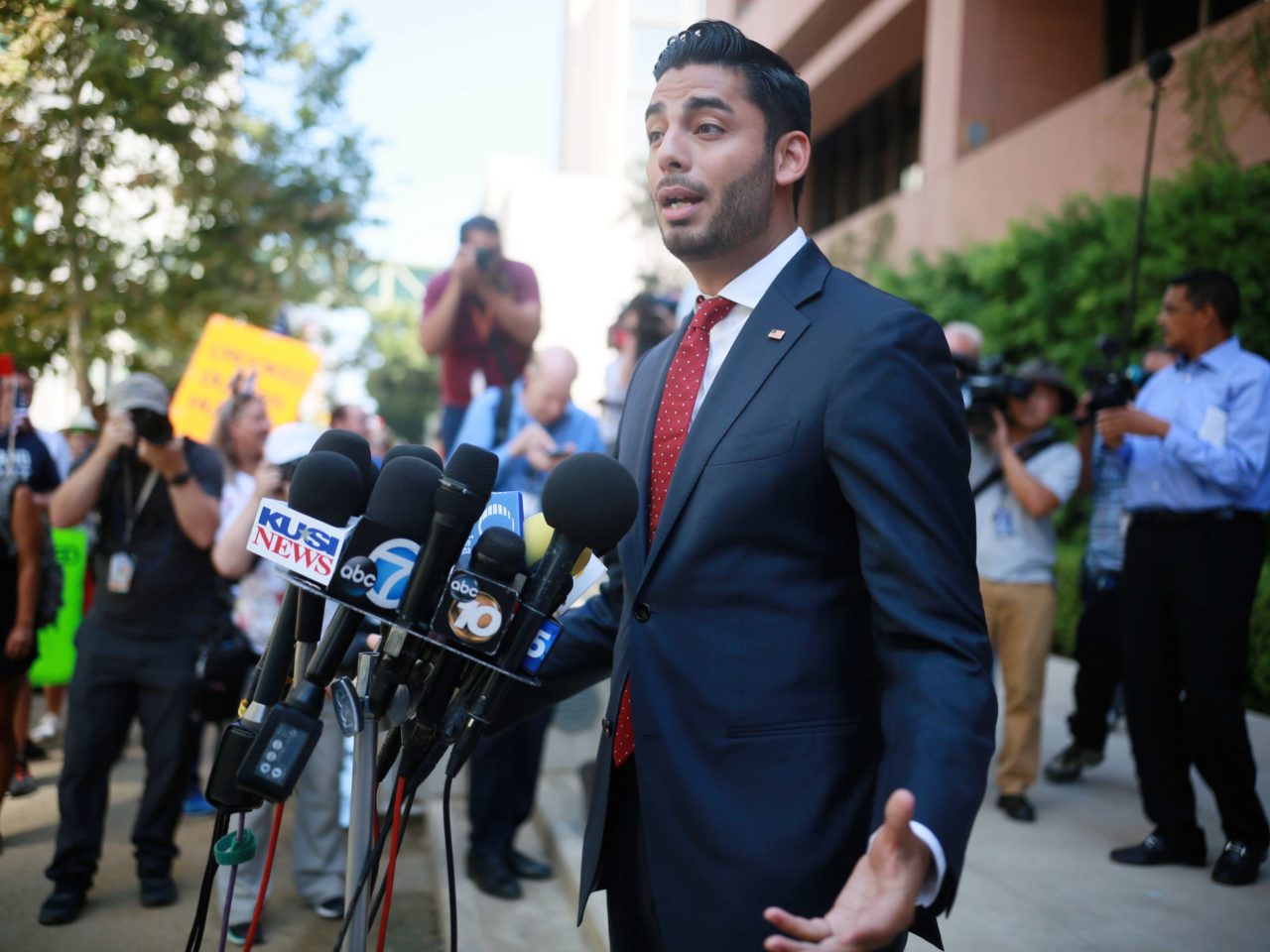 Democratic Party congressional candidate Ammar Campa-Najjar legally changed his name on June 12, 2018 — one week after the California primary — from "Ammar Yasser Najjar" to "Ammar Joseph Campa-Najjar," Breitbart News has learned.
Campa-Najjar is running in California's 50th congressional district to unseat Rep. Duncan Hunter (R-CA), who is facing a federal indictment for misuse of campaign funds.
Court documents provided to Breitbart News indicate that Campa-Najjar officially changed his name on June 12, 2018. He originally filed for the name change in January, but missed a court date in April due to travel plans.
Campa-Najjar's name appeared on the June 5, 2018 primary ballot as "Ammar Campa-Najjar," not as "Ammar Yasser Najjar."
Nick Singer, director of communications for the Campa-Najjar campaign, acknowledged to Breitbart News that the candidate had changed his name. He explained via e-mail that the candidate had nevertheless used the name "Ammar Campa-Najjar" for "years":
Campa is Ammar's mother's maiden name — which pays homage to the family he knew. Adding Campa reveals more of who Ammar is to voters, not the other way around.

Hence, he's gone as Ammar Campa-Najjar for years. With that name, he worked at the White House and U.S. Department of Labor and had a full background check with security clearance. Additionally, when he met Trump and other important people during his time in Washington, this was the name everyone called him.

Ammar is proud to be a Campa, it's the family he knew most – more information on his grandpa Celso Campa is below [in the email] from a news release we sent out in August. Ammar is the son of a Christian working-class single mother who raised him with help from family and neighbors.

One more thing I'd like to add: as his Jewish director of communications, the insinuations that have been made around his name change are frankly absurd and classless.
Singer did not respond to follow-up questions, including a question about why Campa-Najjar had waited until 2018 to change his name.
Though Singer claims that Campa-Najjar has used his current name publicly, he has apparently preferred to use "Ammar Campa" for campaign purposes.
He originally filed papers with the FEC in March 2017 as "Ammar Campa-Najjar for Congress," but in June 2017, Campa-Najjar changed the name of his campaign committee to remove "Najjar," according to the Federal Elections Commissions website. Najjar currently collects donations under the label "Ammar Campa for Congress."
His campaign website is "CampaCampaign.com," again omitting his full name and using a surname that was not legally part of his name until June. Whois.com indicates that the domain was registered in April 2017.
Campa-Najjar's Twitter handle is "ACampaNajjar," but his profile describes him as "Ammar Campa," omitting his full legal surname. His Facebook page is also "Ammar Campa for Congress" (though the web address for the page includes "Najjar").
The Hunter campaign launched a new web page attacking Campa-Najjar on Thursday as "Ammar Yasser Campa-Najjar."
Najjar has built a national profile as the first "Latino Arab-American" to run for Congress. His mother is Mexican-American and his father is Palestinian-American.
His paternal grandfather was Muhammad Yusuf al-Najjar, "a mastermind of the terrorist murder of 11 Israeli Olympic athletes and coaches at the 1972 Games in Germany," according to the Times of Israel. (Campa-Najjar has repudiated his grandfather's views.)
His father, Yasser Najjar, served as a mid-level Palestinian Authority official in Gaza, according to a 1996 report in the Washington Post, which indicated that he was interested in working toward peace with Israelis. "It's like a wife that you don't love, but you have to stay married," the elder Najjar is quoted as saying. "The Palestinian and Israeli people will inevitably work it out, to both their benefits." Campa-Najjar said in a 2016 Post op-ed that his father had since become "a law-abiding, taxpaying, American Muslim who has devoted his life to promoting peace between Israel and the Palestinian people."
Campa-Najjar may not have broken California election laws, since candidates are often permitted to use the name by which they are publicly known, even if it is not their exact legal name. Election lawyer Steve Duvernay told Breitbart News that a candidate can likely use any "genuine variation" on his or her name.
As Campa-Najjar himself told a Facebook group on Thursday, apparently in response to queries, "[Y]ou don't need to go by your legal name on the ballot, just your known name." (He added, regarding his name change: "I just decided to formalize the name I've been known as for years.")
An FEC spokesman informed Breitbart News: "The regulations do not address whether a candidate is required to use his/her legal name in filings with the Commission."
However, it is unusual for candidates to change their legal names during an election.
In a recent Los Angeles Times profile, Campa-Najjar cracked a joke about voters remembering his unusual name: "At least I don't have 'Hussein' in my name."
Campa-Najjar tweeted the article last Tuesday, adding: "Hunter changed, this race has changed — I haven't."
He has, at least, changed his name.
Joel B. Pollak is Senior Editor-at-Large at Breitbart News. He is a winner of the 2018 Robert Novak Journalism Alumni Fellowship. He is also the co-author of How Trump Won: The Inside Story of a Revolution, which is available from Regnery. Follow him on Twitter at @joelpollak.
http://feedproxy.google.com/~r/breitbart/~3/zzL8JkQ41mE/