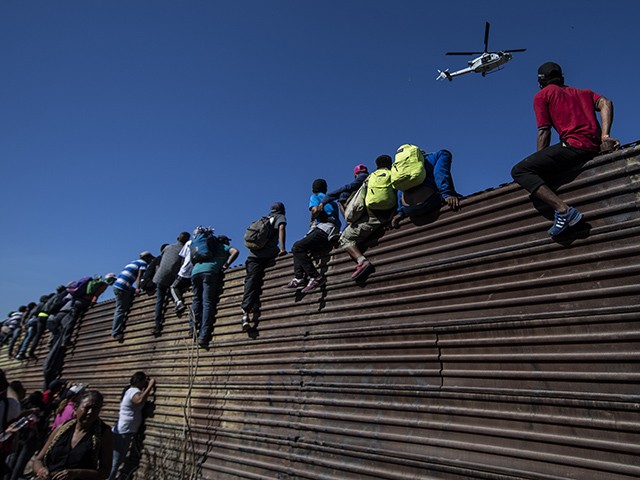 WASHINGTON, DC – More than 100 national conservative leaders demanded Tuesday that Congress tackle illegal aliens on the U.S.-Mexican border in the year-end funding measure, demanding $5 billion for a border wall and other national security safeguards.
Leaders of many of the most powerful conservative organizations in the United States signed this Conservative Action Project Memo to the Movement, entitled "America's National Sovereignty Threatened: Congress Must Fund a Wall that Secures our Southern Border."
"As the southern border continues to be overwhelmed by migrants seeking illegal entry into the United States, we urge Congress to finally address this issue," begins the Memo to the Movement.
The Memo makes three specific demands on Congress to achieve this national security goal:
Provide a minimum of $5 billion for President Trump's border wall. Unlike the $1.6 billion that Congress passed in March, these funds must allow the president to actually engage in new construction and planning. To be clear, funds that merely allow for repairs, planning or pedestrian fencing—and do not allow for new construction of President Trump's wall prototypes—do not constitute funding a border wall.
Provide more funds for the U.S. Customs and Border Patrol. The U.S. border patrol is facing continued and growing illegal crossings, with more than 50,000 apprehensions this fiscal year alone. As current events have demonstrated, adequate funding for both manpower and resources are critical to the safety and security at the border, but also to our national sovereignty. Our legal immigration system, the rule of law, and the nature of U.S. citizenship are at risk if we do not control the flow of illegal immigration by securing the border.
Provide funds for more judges at the border. Under President Obama, the legal threshold for claiming asylum was lowered to one of "credible fear." As a result, asylum cases have shot upward, many times taking years to process. In the meantime, illegal entrants claiming asylum are released into the interior of the country, where they await legal proceedings for which they may or may not show up. More judges at the border will allow for faster processing times, allowing genuine asylum claims to be identified and prioritized and inadequate asylum claims to be efficiently handled.
These leaders praise President Donald Trump, saying the commander-in-chief is "using all of his authorities to address this crisis at the border."
The signatories include:
Ed Meese, former U.S. Attorney General of the United States
Don Hodel, former U.S. Secretary of Energy and Secretary of the Interior
Matt Schlapp, Chairman, American Conservative Union
Al Regnery, Chairman, Conservative Action Project
Ken Blackwell, Chairman, Constitutional Congress
Jenny Beth Martin, Chairman, Tea Party Patriots
Tony Perkins, President, Family Research Council
David Bozell, President, ForAmerica
David Bossie, President, Citizens United
Gary Bauer, President, American Principles Project
Tom Fitton, President, Judicial Watch
Bill Walton, Chairman, CNP Action
Colin Hanna, President, Let Freedom Ring
Charles Cooper, former Assistant Attorney General, U.S. Department of Justice
Gen. Jerry Boykin (ret.), former Commander, U.S. Army Special Warfare Center
Jim DeMint, former U.S. Senator
Bob McEwen, former U.S. Congressman
Ken Cribb, Former White House Domestic Policy Adviser to President Reagan
Ken Klukowski is senior legal editor for Breitbart News. Follow him on Twitter @kenklukowski.
http://feedproxy.google.com/~r/breitbart/~3/cn-wfmkqtfQ/