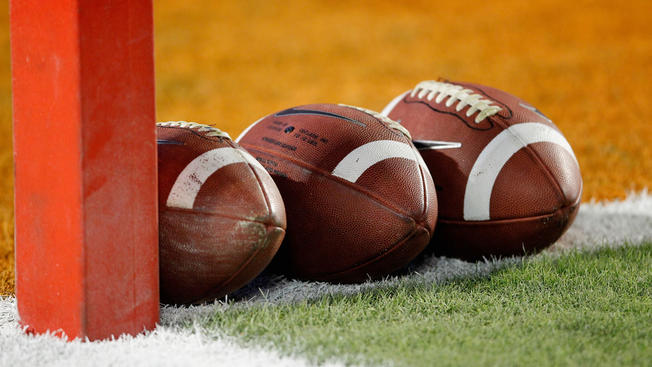 An Ave Maria University football player has been arrested and charged with pointing a gun at a teammate's head, according to police.
Police arrested Cory del Prado, a player at the Ave Maria, Florida-based school, on Monday, according to the Naples Daily News.
Witnesses said that del Prado pointed a gun at a teammate's head during a belated Halloween party on November 3 held in an off-campus apartment, the Collier Sheriff's Office said in a report.
An argument reportedly erupted when freshman players Kurt Tibbets and Daniel Hoffman were tasked with manning the door to prevent any more people from entering because the room was already too full of party-goers.
But witnesses say that del Prado arrived a short time later with another student and demanded to be given entry to the party. When he was denied entry, the police report says del Prado pulled what looked like a firearm from his waistband, placed it to Kurt Tibbets' head, and reportedly said, "I will ruin your life."
The report says that del Prado renewed his threats several days later when he saw Daniel Hoffman in a school weight room.
Both Tibbets and Hoffman expressed fear that del Prado was capable of shooting them.
A police investigation revealed that the "gun" used to threaten the two players was a pellet gun, not a real firearm.
Del Prado told police that he did not place the pellet gun to Tibbets' head but also admitted he was already drunk when he arrived at the party. He insisted he does not have a clear memory of the incident.
For its part, the school quickly moved to expel the suspect.
"There is a student code of conduct that all students sign to be part of the university," said Ave Maria University marketing and communications director Mark McCormick. "It regulates behavior and activities, and he (del Prado) violated expected student behavior."
"We hold our students, faculty, and staff to a pretty high standard," McCormick added. "All of us sign a code-of-expected-behavior document when we come on board. We are making sure safety and security of our students is our No. 1 priority."
Del Prado was charged with a single felony account of aggravated assault with a weapon without intent to kill, was sent to the Immokalee Jail Center and later bailed out on a $10,000 bond. He is next set to appear in court on December 3.
Follow Warner Todd Huston on Twitter @warnerthuston.
http://feedproxy.google.com/~r/breitbart/~3/1hxIOSR68uc/