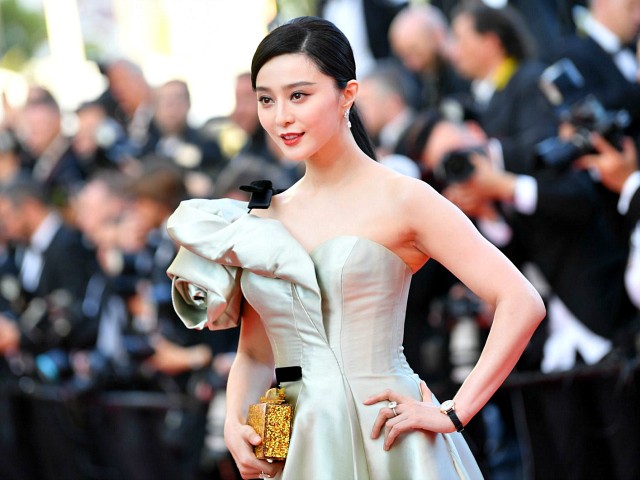 Until very recently, 37-year-old Fan Bingbing was the most famous actress in China and a rising star in Hollywood, having scored roles in two of the biggest movie franchises in history, X-Men and Iron Man. (She played the teleporting mutant Blink in X-Men: Days of Future Past.)
In June, she paid a visit to a children's hospital in Tibet and vanished as suddenly as her X-Men character was capable of doing. 
CNN on Monday compared it to her X-Men costar Jennifer Lawrence vanishing after a charity event and no one saying a word about her disappearance for months. Fan is at least as popular in China as Lawrence in the United States.
Time magazine, which named Fan one of its "100 Most Influential People" in 2017, notes she has 63 million followers on Weibo, which is essentially China's version of Twitter.
She is one of the highest-paid actresses in the world and the most successful actress in China. She is also a fashion model with international clients, an accomplished singer, and an energetic philanthropist, giving her time and money to causes ranging from childhood heart disease to firemen who died in the line of duty.
Fan has apparently not posted on Weibo since early July and has not made a public appearance in months. Her final Weibo post said she was visiting a children's hospital in Tibet. The location of the hospital has ominous political ramifications, but the prevalent theory of Fan's disappearance is that she was arrested for tax evasion.
Her last Weibo post has a growing pile of replies from anxious fans asking her to clear up the allegations or at least let everyone know she's okay.
Financial investigations have been a convenient way for the tyrants of Beijing to make politically difficult celebrities and business tycoons disappear. Australian Strategic Policy Institute analyst Fergus Ryan said as much to CNN on Monday:
If you are a billionaire, then that is something that obviously you can enjoy to a certain extent, but you've got to be very, very wary that you don't at any stage cross a red line of some sort and fall afoul of the Chinese Communist Party.
An alternative theory holds that Fan is on the run and hiding out somewhere beyond Beijing's reach, a situation the government would be very reluctant to discuss, at least not until her reputation was completely ruined. If Fan is on the lam, she might be betting the Communist Party will leave her alone if she keeps quiet and lets them use her as a political instrument.
Chinese media in May leaked copies of two contracts Fan purportedly signed for the same work, a 2003 movie called Cell Phone. One of the contracts stated her income was only $1.5 million while the other specified $7.5 million. The idea behind such "yin-yang contracts," as they are called in China, is to submit the vastly smaller amount for tax purposes while keeping the larger contract secret. In essence, the documents suggested Fan under-reported her income to Chinese tax authorities by $6 million.
CNBC notes the leak of Fan's contracts was treated like a scandalous invasion of her privacy and possibly an attempt to slander her with phony paperwork; the TV host who posted the contracts to Weibo walked back his claims and apologized after Fan's representatives denied the allegations.
China's State Administration of Taxation nevertheless heaved a theatrical sigh and announced it might as well look into the widespread use of yin-yang contracts by China's rapidly growing film industry. The Chinese government also took the opportunity to impose salary caps on actors because their compensation was allegedly "fostering money worship tendencies."
By September, Chinese state media was touting a survey that supposedly rated Fan Bingbing dead last in "social responsibility," literally proclaiming her the least respectable actor in China.
Reports began circulating in late July that Fan and her brother Fan Chengcheng were under investigation for tax fraud and were forbidden to leave China. Those reports were quickly erased from the Chinese internet. For that matter, international media reports on Fan's disappearance are reportedly still being blocked by China's censors.
In early September, a state-run magazine called Securities Daily published an article claiming Fan Bingbing had been "brought under control" and was "about to receive legal judgment." This article was also erased soon after publication.
Theories about the real story behind Fan Bingbing's disappearance postulate the Chinese Communist Party is worried about income inequality, corruption, and/or the political ramifications of the immense popularity enjoyed by the few superstars of the Chinese box office.
In his remarks to CNN, Fergus Ryan of the Australian Strategic Policy Institute said he has done publicity work for Chinese actors, and it was common knowledge that asking them to promote causes that make the Communist Party uncomfortable is "foolish." The Party might be looking to keep top celebrities in line by making an example of Fan.
China's sharp elbows are once again digging into the business interests of free Western countries, as the South China Morning Post lists several international corporations that suddenly find themselves in a tight spot due to endorsement deals with Fan.
Some of these companies, such as Britain's De Beers diamond firm, seem to be quietly moving on to other Chinese celebrity spokespersons. The speed, silence, and coordination of their flight from Fan Bingbing suggest they have been notified they might lose Chinese market share if they continue to associate with her.
Upcoming movie projects Fan was involved with, including a film about Japan's bombing of China in World War II that co-stars Bruce Willis, have been delayed, canceled, or edited to remove her.
The Chinese government simply refuses to discuss Fan Bingbing's fate. "The situation is that we all speak with one voice from top to bottom: that is that we don't accept interviews and we have no comment," one official told the New York Times last week.
http://feedproxy.google.com/~r/breitbart/~3/B_Dn1AhTgeI/