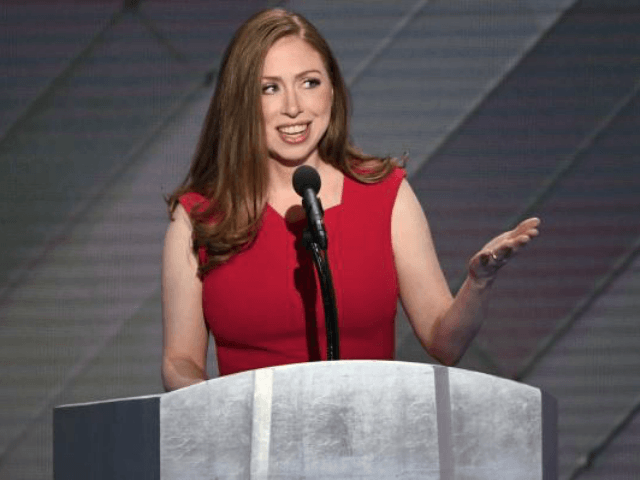 Chelsea Clinton dropped yet another subtle hint at her political future on Wednesday, days before a scheduled appearance in Scarsdale, New York, on Saturday to promote a children's book.
Clinton told the Journal News on Wednesday she would not rule out running for office, but would only do so "if someone were to step down and retire."
"I think if someone were to step down or retire, and I thought I could do a good job and it matched my talents, I'd have to think if it's the right choice for me," Clinton said, adding that her mother had not dropped any hints about mounting another presidential campaign in 2020.
The 38-year-old daughter of former President Bill Clinton and former Secretary of State Hillary Clinton said that while she does not "have any plans" to follow in her parents' footsteps anytime soon, she encouraged young people to seek elected office.
"I don't have any plans to run for office, but it is something I think about as I hope every young person thinks about it," Clinton added. "If you care about what's happening in the world, you have to care about running for and holding elected office. I hope it's a question that we ask ourselves."
This is the second time Clinton hinted at running for political office. In August, she told attendees at the Edinburgh International Book Festival that a run for office is a "definite maybe in the future."
At the time, she had been promoting another children's book called She Persisted: 13 Women Who Have Changed the World.
The book features 13 women who overcame adversity to rise to the top of their fields—including Helen Keller, Oprah Winfrey, Sonia Sotomayor, and a cameo of former 2016 Democratic presidential nominee Hillary Clinton.
The former first daughter is scheduled to appear in Scarsdale on Saturday to promote her latest children's book Start Now! You Can Make a Difference, which addresses issues like climate change, hunger, and bullying and aims to reach children ages seven to ten.
Even though Clinton says she is not planning a run for elected office anytime soon, she has managed to remain outspoken against President Trump and his administration.
The former first daughter said on Father's Day that "no parent" and "no person" should support President Trump's crackdown on illegal alien border crossings.
http://feedproxy.google.com/~r/breitbart/~3/aWK3kvSOKAA/