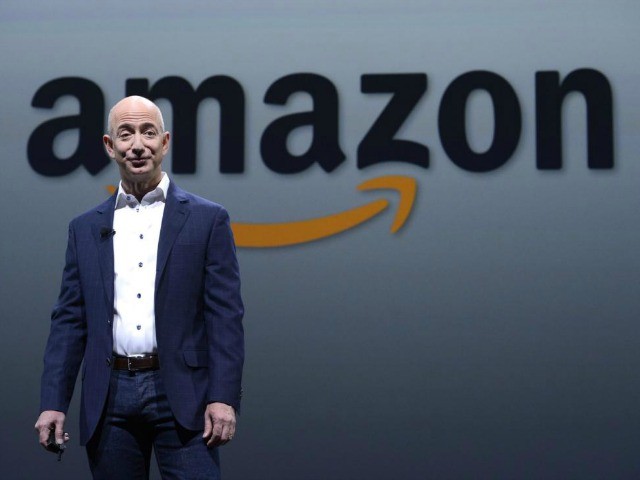 Amazon has finally picked the new locations of its east-coast headquarters, and they're pretty obvious choices: New York City and the Washington D.C. metropolitan area. But that wasn't before the tech giant sadistically made virtually every other metropolitan area beg for its patronage.
It's no surprise that Amazon chose to locate its new headquarters in NYC and DC, the twin hubs of finance, media, and political power in America. But before the company made its eminently predictable decision, other cities still felt compelled to kiss Jeff Bezos' ring, in the vain hope of attracting the same tech giant whose rise has gutted their local main streets.
Some of the behavior by city governments was pretty humiliating. Kansas City mayor Sly James personally bought and reviewed 1,000 Amazon products (all 5-star reviews, of course), in an effort to persuade the company to set up shop in his city. And in Georgia, the town of Stonecrest offered to rename itself "Amazon, Georgia" if the tech giant picked them.
Beyond these obsequious examples, cities offered eye-watering financial incentives to Amazon. These include an offer of $8.5 billion in tax incentives and infrastructure aid from Montgomery County, Maryland, a $7 billion offer from Newark, New Jersey, and a $2 billion bid from Pittsburgh, Pennsylvania. In all cases, the cities approved local ordinances that provide for the tax breaks before Amazon made its decision. It goes without saying that no small or medium-sized business gets offered billions of dollars to set up shop.
NYC and D.C didn't get Amazon's patronage for free, by the way — both areas enticed the tech giant with $2.5 billion in subsidies.
This would be less embarrassing if it weren't for the damage that the company has wrought in the retail sector, an industry which many small cities and towns have relied on as blue-collar industries have disappeared. Everyone from top venture capitalists to President Trump agrees that the tech giant's rise has been poison for local brick-and-mortar stores.
The numbers don't lie: the tech giant's value has skyrocketed in recent years — rising 37 percent in 2017 alone, it is now the world's second most valuable company. During the same short period, the fortunes of America's retail sector have gone from bad to worse, with clothing stores, automotive retailers, and general merchandise stores all seeing massive declines in value. Some of this can surely be attributed to factors other than Amazon, but the online retailer bears an outsized portion of the responsibility.
Worse, Amazon is not replacing lost retail jobs with new ones. "Amazon is going to kill more American jobs than China did," is the grim analysis of MarketWatch columnist Rex Nutting. The problem is that Amazon requires far fewer human jobs than the local retail sector does (and it's likely to require even fewer as drone transportation comes into play over the next few years). Despite its spectacular growth, the number of workers employed by Amazon is less than a quarter of Walmart's, America's largest retailer.
Combine the employees of other businesses that Amazon threatens, and the amount of potentially displaced jobs is even higher. Per MarketWatch:
If Amazon can capture 40% of the GAFO market within five years (as seems likely), about 1.5 million jobs at brick-and-mortar stores could be lost. Add in the jobs Amazon will kill at grocery stores, drugstores, warehouses and delivery services, and the total would be well over 2 million.
Add in the notoriously low tax rate that Amazon pays to local and national government and the fawning behavior of America's cities goes from embarrassing to cravenly selfish: 50,000 jobs for one or two cities, and an economic desert for everyone else. Perhaps it's fitting that the prize went to D.C. and NYC, two cities already entrenched as perpetual winners in America's geographical wealth disparities.
Allum Bokhari is the senior technology correspondent at Breitbart News. You can follow him on Twitter, Gab.ai and add him on Facebook. Email tips and suggestions to allumbokhari@protonmail.com.
http://feedproxy.google.com/~r/breitbart/~3/L9QTU65UdGs/