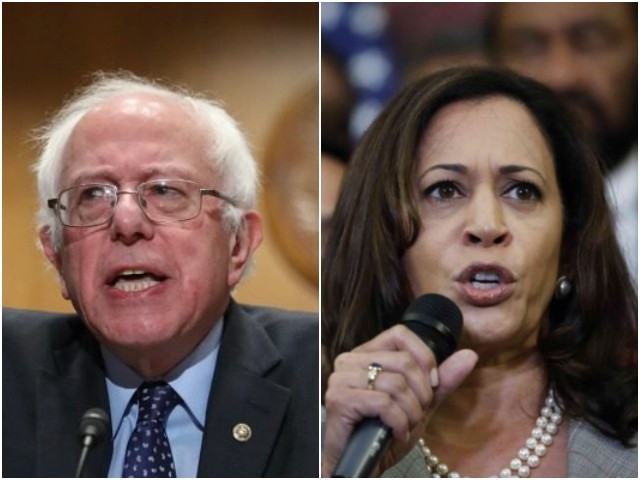 Sen. Bernie Sanders (I-VT) and Sen. Kamala Harris (D-CA) are spending time in the Hawkeye State to stump for Democrat candidates before the 2018 midterm elections on November 6.
The two progressive senators are in Iowa campaigning for Democrat candidates running for the House and Senate in the midterms, which is one stop on a nine-state tour that includes states such as Wisconsin and South Carolina.
Sanders is slated to campaign at several rallies on Saturday and Sunday in Iowa for former professional baseball player J.D. Scholten, who is running as a Democrat for Congress against Rep. Steve King (R-IA) in Iowa's Fourth Congressional District.
The Vermont senator, who had campaigned in the state before when he ran against Hillary Clinton in 2016, will attend events with Scholten in Sioux City, Ames, and at Iowa State University.
Harris is scheduled to be in Iowa on Monday and Tuesday, rallying with Democrat congressional candidate Cindy Axne, who is running against incumbent Rep. David Young (R-IA) in Iowa's Third Congressional District.
It is Harris's first visit to the state since 2008, when she stumped for then-Sen. Barack Obama (D-IL) while serving as San Francisco's district attorney.
The California Democrat is also slated to campaign for a couple of Democrat candidates campaigning for Iowa's state legislature and will attend early voting rallies in Cedar Rapids and the Des Moines area.
Both Sanders and Harris have been mentioned as potential 2020 candidates. In a recent poll, 13 percent of respondents think Sanders will win the Democrat primary, while 9 percent of those polled think Harris will win the Democrat nomination for president in 2020.
http://feedproxy.google.com/~r/breitbart/~3/lomyDVK7oGA/