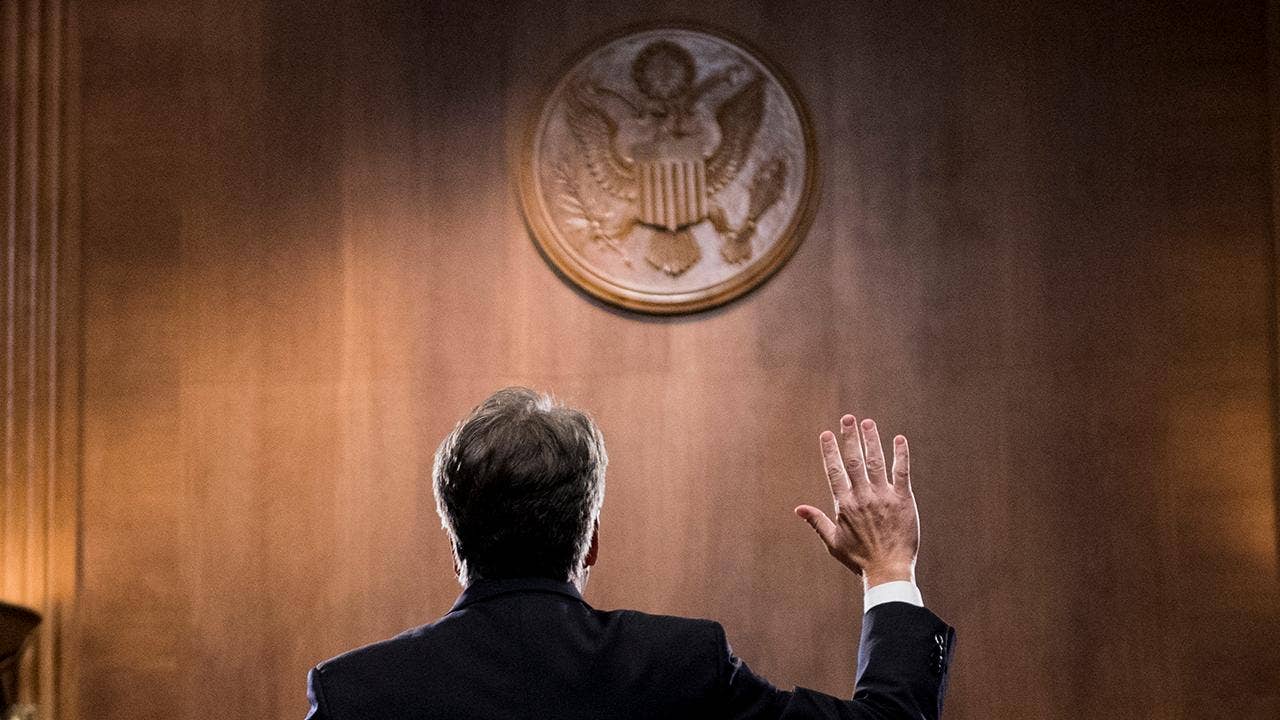 The American Bar Association late Thursday urged the Senate Judiciary Committee to delay the vote to confirm Supreme Court Nominee Brett Kavanaugh pending a full FBI investigation, according to multiple reports.
In a letter addressed to Senate Judiciary Chairman Chuck Grassley and ranking Democrat Dianne Feinstein, the organization requested the committee hold off on voting until allegations made by Dr. Christine Blasey Ford and others can be fully vetted by the FBI.
"We make this request because of the ABA's respect for the rule of law and due process under law," the letter read. "The basic principles that underscore the Senate's constitutional duty of advice and consent on federal judicial nominees require nothing less than a careful examination of the accusations and facts by the FBI."
Ford, a California professor, accused the federal judge of sexually assaulting her more than three decades ago.
The organization said the decision behind an apportionment for the Supreme Court is "simply too important to rush to a vote," while proceeding without an additional investigation would not only impact the Senate's reputation, but "negatively affect the great trust necessary for the American people to have in the Supreme Court."  
"It must remain an institution that will reliably follow the law and not politics," the letter stated.
The Huffington Post posted a copy of the letter to Twitter. Fox News emailed and called the ABA and did not immediately receive comment.
In August, the association rated Kavanaugh as a well-qualified candidate for the nation's highest court. It issued the recommendation before the allegations were made public.
Sen. Lindsey Graham, R-S.C. cited the association's comments during an intense moment during Thursday's hearing.
"Here is my understanding, if you lived a good life people would recognize it – like the American Bar Association has the gold standard," Graham said. "His integrity is absolutely unquestioned. He is the very circumspect in his personal conduct. Harbors no biases or prejudices. He is entirely ethical. Is a really descent person. He is warm, friendly, unassuming – he is the nicest person."
Both Kavanaugh and Ford testified in front of the committee on Thursday in what was an emotional day of testimony for both sides.
The drastically conflicting statements, delivered to the Senate Judiciary Committee in dramatic testimony that carried echoes of the 1991 Anita Hill hearings, left senators to make a judgment call on whose story is accurate.
It remains unclear whether the hearing will sway enough senators to secure confirmation.
http://feeds.foxnews.com/~r/foxnews/politics/~3/9nVRJ5fCE2g/american-bar-association-requests-to-delay-brett-kavanaugh-vote-until-fbi-investigates.html