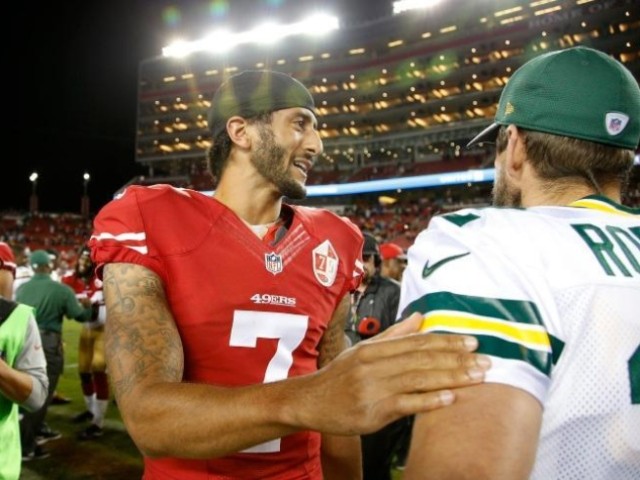 Colin Kaepernick had a few exceptional moments as a pro before the rest of the league figured him out, and he decided using football as a platform for politics was more important than using it as a platform for football.
Of those exceptional moments, a few of them came against the Green Bay Packers. Including two playoff wins, a regular season win, a 400-yard passing performance, and the greatest rushing performance by a quarterback in league history.
With numbers like that, one would think the 9ers would have included Kaepernick in their photo gallery of great moments in their rivalry against Green Bay.
However, one would be wrong.
According to Pro Football Talk:
The 49ers published 48 pictures of what they described as 'top moments between the 49ers and Packers since 1950,' and zero of those pictures were of Kaepernick. The pictures range from a black-and-white photo of Roland Lakes sacking Bart Starr in 1967 to Bradley Pinionpunting during the 49ers' game against the Packers in 2015. But no Kaepernick.

Were those two great playoff wins simply forgotten? No. There are pictures from those games, but they all focus on other 49ers. If you want to see Kaepernick, who was the best player on the field, you'll have to squint while looking at the picture of Michael Crabtree catching a touchdown pass. In the background, out of focus, is Kaepernick, who threw that touchdown pass, but isn't mentioned in the caption.
The choice to memory scrub Kaepernick seems odd, given that it was only last month when 49ers Owner Jed York voiced support for his former player's decision to kneel.
I guess even San Francisco has reached their limit with Kaepernick.
Follow Dylan Gwinn on Twitter @themightygwinn
http://feedproxy.google.com/~r/breitbart/~3/5ZpIir9C1YA/