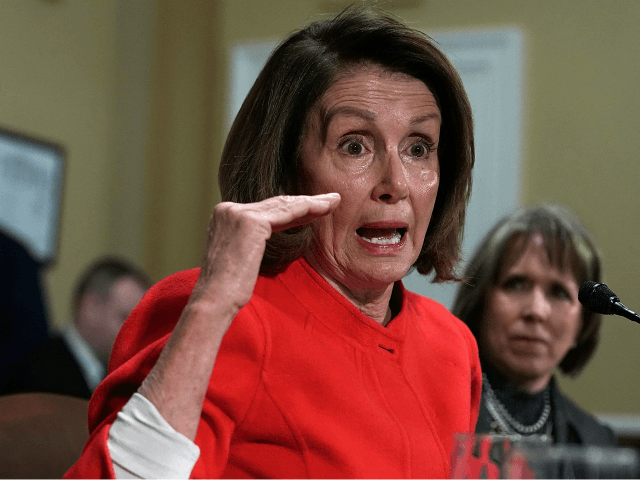 House Minority Leader Nancy Pelosi (D-CA) says if Democrats take back the House in the 2018 midterm elections, they will trade "nothing" in exchange for a border wall to be constructed along the U.S.-Mexico border.
During a sit-down discussion with the Institute of Politics at the Harvard Kennedy School, Pelosi said Democrats will not negotiate on building a border wall and called President Trump's plan to stop illegal immigration "probably the worst way" to secure the southern border.
When asked by a student what Democrats would be willing to trade for handing over border wall funding — if they win the House — Pelosi responded with a smile, saying "Nothing."
"We can't allow [Trump] to say we're not interested in protecting the border. That isn't the only way to protect the border," Pelosi said. "In fact, it's probably the worst way to protect the border."
Pelosi called amnesty for all 12 to 22 million illegal aliens living in the U.S. "the place that we have to go," and called a border wall Trump's "manhood issue."
"In any event, it happens to be like a manhood issue for the president," Pelosi said.
While Democrats admit that their plan for immigration if they win the 2018 midterm elections is open borders and blocking a border wall, House Republicans have said they will push for full wall funding.
As Breitbart News Political Editor Matt Boyle exclusively reported, House Majority Leader Kevin McCarthy is introducing legislation that will fully fund a border wall along the southern border, as Trump has demanded.
The McCarthy legislation will provide more than $23 billion in funds to fully construct a U.S.-Mexico border wall and include "Kate's Law" and the "No Sanctuary for Criminals Act" enforcement measures that specifically target ending sanctuary cities for illegal aliens and tougher penalties for illegal alien criminals.
John Binder is a reporter for Breitbart News. Follow him on Twitter at @JxhnBinder. 
http://feedproxy.google.com/~r/breitbart/~3/PUsE5il101Q/