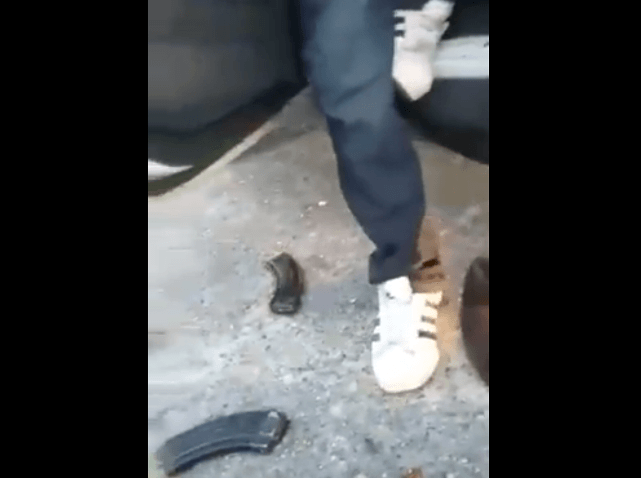 REYNOSA, Tamaulipas — Gunmen with Mexico's Gulf Cartel clashed in a firefight with rivals from Los Zetas. The gunplay occurred mere yards from banks of the Rio Grande River border with Texas.
Fighting took place this week in several areas near Miguel Aleman when teams of gunmen with the Gulf Cartel mobilized to an incursion by the Cartel Del Noreste (CDN) faction of Los Zetas. Miguel Aleman is immediately south of Roma, Texas, and is considered the busiest crossing area used by the Gulf Cartel for human smuggling and drug trafficking.
A video captured during a clash reveals the moment when a team of Gulf Cartel gunmen appears to be pinned down near a disabled vehicle. Some can be heard screaming they are out of ammunition.
The gunmen can be seen getting out of the vehicle and firing sporadically. One shooter is heard screaming that he is not wearing body armor plates–only a chest rig. The gunmen then run to another vehicle nearby to search for ammunition before the video ends.
Not far from the scene of the first video, more footage captured near Los Guerras appears to show a convoy of at least 20 SUVs filled with gunmen en route to another skirmish.
It remains unclear if the CDN is fighting with the Reynosa faction of the Gulf Cartel independently; or if they teamed up with other rivals of the Gulf Cartel. 
Editor's Note: Breitbart Texas traveled to the Mexican States of Tamaulipas, Coahuila, and Nuevo León to recruit citizen journalists willing to risk their lives and expose the cartels silencing their communities.  The writers would face certain death at the hands of the various cartels that operate in those areas including the Gulf Cartel and Los Zetas if a pseudonym were not used. Breitbart Texas' Cartel Chronicles are published in both English and in their original Spanish. This article was written by "A.C. Del Angel" from Tamaulipas. 
http://feedproxy.google.com/~r/breitbart/~3/-srYduJYQkQ/