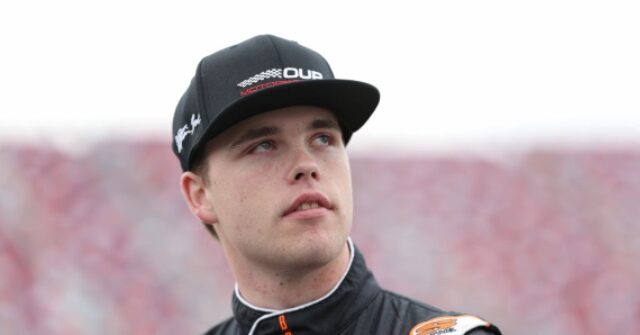 NASCAR Xfinity Series driver Blaine Perkins has been hospitalized after flipping his car six times in a harrowing wreck at Saturday's Ag-Pro 300 in Talledega.
Perkins' number 02 car was smacked from behind during lap 49 by Dexter Stacey at the end of the race's second stage, causing a magnificent smash-up that Perkins was lucky enough to walk away from, according to the New York Post.
Video shows Perkins' car catching the wind and airlifting it end-over-end to slam upsides down on the track before a series of six rolls that left it right side up amid a heap of loose parts lying all around.
The full speed look at Blaine Perkins crash is INTENSE pic.twitter.com/ogO3Tejq9f

— Rubbin is Racing (@rubbinisracing) April 22, 2023
A car driven by Jade Buford also could not avoid the mess of Perkins' wreckage as Buford raced just behind Perkins when the yellow 02 car went airborne.
A red flag halted the race long enough to clean up the mess as Perkins, Buford, and Stacey were eliminated from the race, ending 34th, 35th, and 36th that day.
It was not the only crack-up during the day.
Daniel Hemric's car flipped upside down in a multi-car crackup. Hemric also walked away from the crash.
The Big One at Talladega Superspeedway! Daniel Hemric is out of his car. https://t.co/jlh39dD4JU pic.twitter.com/qFfFgBBesl

— FOX: NASCAR (@NASCARONFOX) April 22, 2023
Ultimately, Jeb Burton won the race after yet another crash late in the race.
Sunday morning, the Perkins family released a statement on Twitter thanking fans.
"Blaine is alert, in good spirits, and continues to be observed at a local hospital. We appreciate everyone's thoughts and prayers. We will continue to provide updates as they are available," the tweet reads.
An update from the Perkins family:

"Blaine is alert, in good spirits, and continues to be observed at a local hospital. We appreciate everyone's thoughts and prayers. We will continue to provide updates as they are available."

— NASCAR (@NASCAR) April 23, 2023
Follow Warner Todd Huston on Facebook at: facebook.com/Warner.Todd.Huston, or Truth Social @WarnerToddHuston
https://www.breitbart.com/sports/2023/04/23/video-nascar-driver-blaine-perkins-hospitalized-after-flipping-car-six-times/