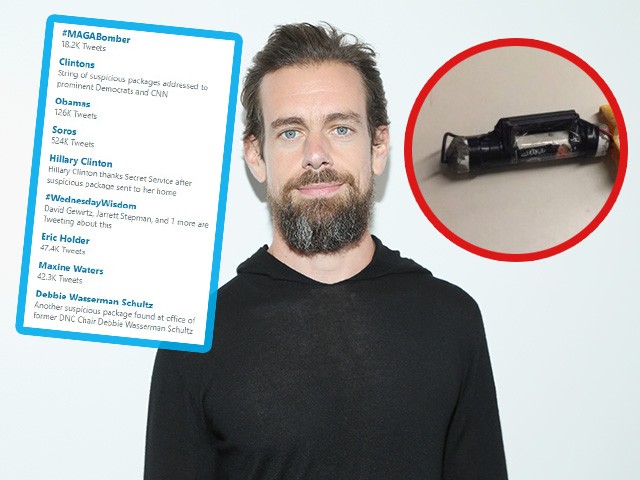 A conspiracy theory alleging that the culprit behind the attempted bomb attacks on former President Obama, the Clintons, and others is a Trump supporter became the top trend on Twitter today.
In the wake of a number of attempted bomb attacks on left-wing news outlets and politicians, the conspiracy hashtag #MAGABomber became the number one trending topic on the platform in the U.S.
Users tweeting in the hashtag allege that whoever is behind the attempted bombings is a supporter of President Trump or has been influenced by his comments criticizing left-wing news outlets and politicians. Below are some example tweets attacking the President and his supporters:
Nobody knows who committed this.
Everybody knows who incited it.#MAGABomber

— Keith M. (@ksecus) October 24, 2018
Republicans could've stopped Trump from the craziness. They had the power then & they have it now.

But they won't. They're culpable for the result.

Why would anyone vote for any Republican in these times?

Vote for Democrats on Nov 6.

#MAGABomber pic.twitter.com/kJILZjgSgj

— Mike #DemForce (@MikeEdBaker) October 24, 2018
FBI releases photos of possible suspects #MAGABomber pic.twitter.com/eFjFeOLeSb

— Mister Race Bannon (@MrRaceBannon) October 24, 2018
We don't today's facts. But we do know today's climate created by Trump. That climate is consistent with today's events.

I think Trump is unfit. He's incapable of leading with integrity. Republicans should demand his resignation.

They won't. So vote for Democrats.#MAGABomber pic.twitter.com/wAYFajzfJj

— Honey #DemForce (@HoneyDemForce) October 24, 2018
The #MAGABomber is a direct result of @realDonaldTrump's comments about the media being the enemy of the people.

— David Leavitt (@David_Leavitt) October 24, 2018
Conservative activists have however begun utilizing the hashtag, pushing back on anti-Trump propaganda and conspiracy theories, some have even mocked those blaming President Trump:
Looks like the #MAGABomber continues to strike with impunity. pic.twitter.com/KF1UfPPUDU

— 🌖Jean's Help Desk🌖 (@Jeans_Stream) October 24, 2018
You have shut down plenty of trending hashtags

Why is #MAGABomber trending
That is a disgrace since no one has any idea who did this

Please fix this

— Jim Hanson (@Uncle_Jimbo) October 24, 2018
#MAGABomber is a conspiracy theory. There is no proof of motive. pic.twitter.com/xLjwuf9qXu

— Mike Cernovich 🇺🇸 (@Cernovich) October 24, 2018
Will Snopes and PolitiFact be writing articles on how the entire Left promoted a dangerous #MAGAbomber conspiracy theory with no evidence?

— Jack Posobiec 🇺🇸 (@JackPosobiec) October 24, 2018
Partisan media outlets and purported news writers spreading the dangerous #MAGABomber conspiracy theory with no evidence today pic.twitter.com/ZCfLuk3bEa

— Jack Posobiec 🇺🇸 (@JackPosobiec) October 24, 2018
Breitbart News has reached out to the company for comment on the #MAGABomber hashtag and whether or not it plans to remove it for pushing a blatant conspiracy theory — the platform has regularly removed trending hashtags in the past. The company has not responded to the request at the time of the writing of this article.
Lucas Nolan is a reporter for Breitbart News covering issues of free speech and online censorship. Follow him on Twitter @LucasNolan_ or email him at lnolan@breitbart.com.
http://feedproxy.google.com/~r/breitbart/~3/x-59-Bk3J-c/