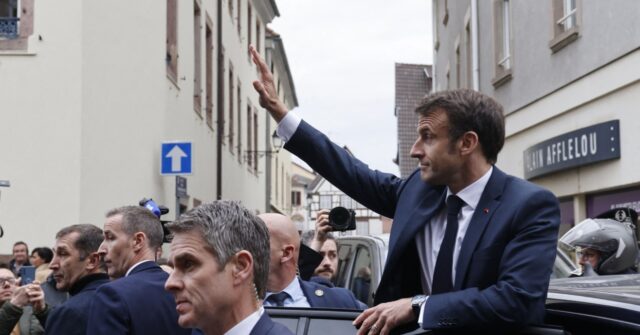 French authorities have confirmed that they will prosecute three anti-Macron protesters over allegations they gave the embattled president the middle finger.
Two men and one woman reportedly face the possibility of a criminal conviction at the hands of French prosecutors after giving President Emmanuel Macron the middle finger, reports in local media have claimed.
The three are reportedly thought to have fallen foul of a draconian law in the country that forbids statements that "affect the personal dignity or the respect owed to a public official" with the alleged gesture, which is said to have been given while Macron was touring the country earlier in the week in a desperate attempt to regain the favour of the public.
According to a report by BFMTV, prosecutors have claimed that all three individuals — none of whom have previous convictions — have admitted to giving the gesture said to have been directed at the President during his trip to Sélestat earlier this week. They will all face trial in September.
Under the French Criminal Code such an offence carries heavy penalties, including a fine of 15,000 euros and potentially up to one year in prison, according to broadcaster La Chaîne Info.
Macron Hounded by Protesters During First Public Appearance After Signing Pension Reforms https://t.co/MBHlXYcKwQ

— Breitbart London (@BreitbartLondon) April 20, 2023
This is not the first time that authorities have targeted members of the French public for insulting Macron, with another woman falling foul of law enforcement sensibilities after comparing the President to trash on social media.
The woman is said to have been arrested by three police officers who showed up at her home over one of her online posts, which is said to have depicted her in front of graffiti mocking Macron that authorities now say she herself made.
Such a claim is denied by the woman, who now faces a maximum penalty of €15,000 and a year in prison if found guilty of insulting Macron by a French court.
Meanwhile, in the UK, another man thought to have been involved in anti-Macron protests in France has also been arrested under a British anti-terrorism law, sparking outrage both domestically and internationally.
Ernest Moret, a French publisher with left-wing sympathies, was detained shortly after arriving in London by train, with police formally arresting him the following day over claims he refused to surrender his mobile phone and passwords to officers when they demanded he do so.
What Jihadis? Outrage After UK Police use Terrorism Laws to Arrest French Publisher Over Anti-Macron Protests https://t.co/GSVTgfIQQn

— Breitbart London (@BreitbartLondon) April 19, 2023
With this latter example sparking significant outrage internationally, the proceedings against the three Sélestat protesters are likely the last thing President Macron needs right now.
Already on the ropes as a result of ongoing protests in the country, the French leader has started touring his country in the hopes of regaining the favour of the general public, who have turned viciously against their head-of-state over the last number of weeks after he raised the country's retirement age by two years.
Macron has now seen his popularity fall to its lowest point ever, with barely over a quarter of the country now holding a favourable view of the Jupitarian leader.
Meanwhile, officials on France's populist right have seen their popularity jump, with polling suggesting that Marine Le Pen would win the Presidency if an election was held in the country tomorrow.
Le Screw Up: Emmanuel Macron Popularity Sinks to Record Low https://t.co/uIE3NNT5BF

— Breitbart London (@BreitbartLondon) April 22, 2023
Follow Peter Caddle on Twitter:

@Peter_Caddle
Follow Breitbart London on Facebook:

Breitbart London
https://www.breitbart.com/europe/2023/04/23/three-anti-macron-protesters-face-prison-for-giving-president-the-middle-finger/