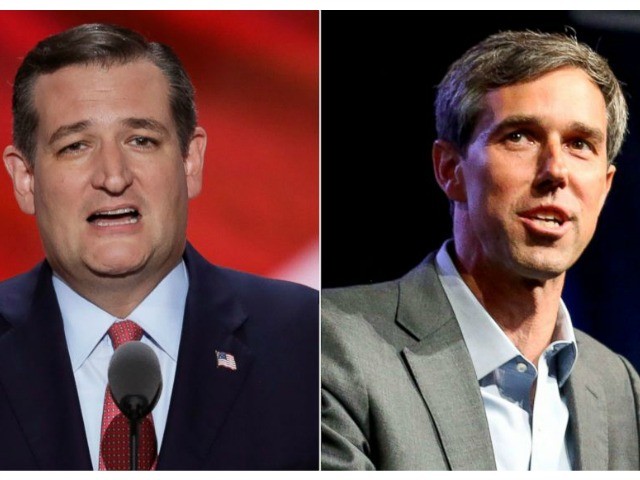 Sen. Ted Cruz held a six-point lead over Democrat challenger Robert Francis "Beto" O'Rourke in a UT/Texas Tribune poll released Friday.
Republican incumbent Cruz led O'Rourke 51-45 in the face of a massive onslaught of contributions to O'Rourke. The University of Texas/Texas Tribune poll surveyed 927 likely voters from October 15-21 with a 3.2 percent margin of error.
"If you look for Republican defections to Beto O'Rourke, they're not there. But the independents break to the Democrat instead of the Republican in that race," said the poll's co-director Jim Henson. Libertarian Neal Dikeman received two percent support in the poll, while another two percent expressed a preference for some other candidate. Independent voters preferred O'Rourke over Cruz 51-39 in the poll.
O'Rouke has surpassed a monumental $70 million in contributions as of Friday as new fundraising numbers were released. Dallas News reported three-quarters of that, $52.8 million, came from contribution crowdsource organization ActBlue. O'Rourke has spent all but $10.3 million of the fundraising haul, $21 million of the spending occurring in the first 17 days of October.
Cruz has raised a total $29.7 million in the same time frame, Q2 2017 through October 17, 2018. His campaign had $6.7 million cash on hand headed into the final weeks of the campaign.
Cruz has led by single digits in a host of recent polls on the Texas Senate race but retains the modest lead. Fellow Democrats have criticized O'Rourke for not sharing his bloated campaign war chest in a midterm election year when Democrats are hard focused on regaining majorities in congress.
Michelle Moons is a White House Correspondent for Breitbart News — follow on Twitter @MichelleDiana and Facebook
http://feedproxy.google.com/~r/breitbart/~3/bWOdUvRauRY/