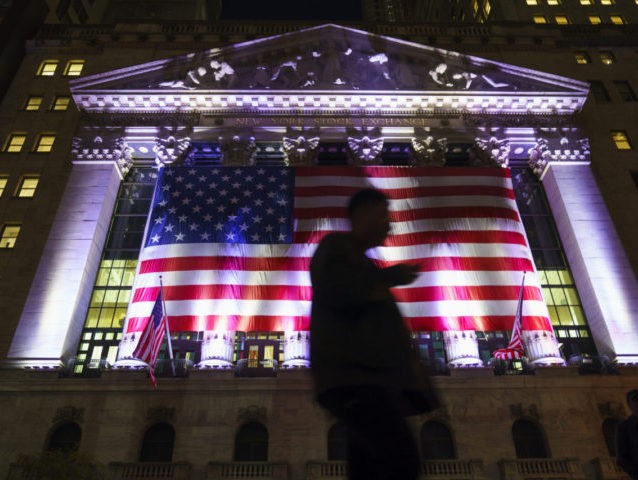 U.S. stocks fell Thursday as signs of sustained economic strength pushed Treasury yields to multiyear highs.
The Dow Jones Industrial Average was down by more than 350 points at its low but somewhat recovered to close down 201 points, or about 0.75 percent. It was the worst day for the 30 stock index of large U.S. companies since August. On Wednesday, the stock hit a record high.
The S&P 500 fell by eight-tenths of a percentage point. The tech-heavy Nasdaq Composite dropped by 1.8 percent. The index of smaller companies, the Russell 2000, was off by 1.4 percent.
Nine of the 11 S&P 500 sectors declined, with financial stocks and utilities the only risers. Banks are thought to benefit from a steepening yield curve, when the difference between short-term interest rates and long-term interest rates grows.
The yield on the 10-year Treasury note yield reached 3.2 percent, the highest level since 2011. Yields move in the opposite direction of bond prices. Longer-term yields on Treasuries reflect with expected path of short-term interest rates as set by the Federal Reserve, with a rising yield suggesting that investors think interest rates will move higher.
Good jobs numbers, with jobless claims lower than expected and private payrolls rising by 230,000 in September, as well as hawkish comments from Fed chairman Jerome Powell have led bond investors to reconsider an earlier view that the Fed's rate hiking cycle could be nearing an end or slowing down. Powell said this week that monetary policy was far from hitting a "neutral stance," suggesting that the economy would continue to expand and interest rates would continue to go up.
Higher yields on bonds make riskier stocks relatively less attractive.
Tech stocks may also have been weighed down by a stunning report from Bloomberg that agents of China's military had placed spyware chips on the hardware used by companies from Amazon, to Apple, to Google.
The government is due to report on the September employment situation on Friday. Economists expect the economy added 180,000 jobs last month, although some recent data suggest the number could come in significantly higher. One big unknown is how much Hurricane Florence will weigh on job creation for the month.
http://feedproxy.google.com/~r/breitbart/~3/Akid3nmgmGk/