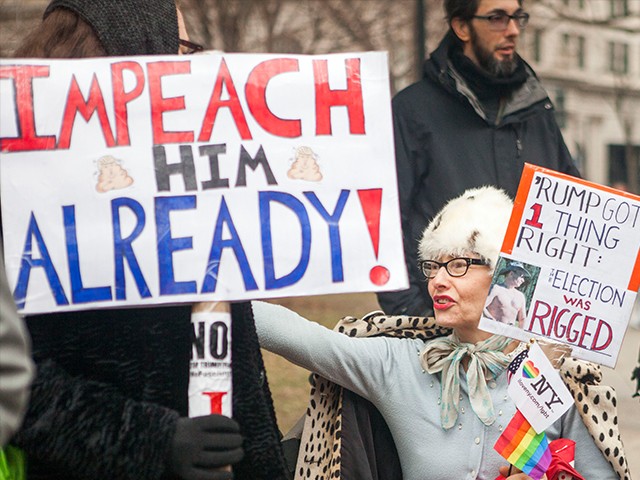 San Diego State University is reviving a controversial "pop-up course" about impeaching President Trump.
According to a report from The College Fix, San Diego State is offering a "pop-up course" about the impeaching President Trump. The course is almost identical to a course that was canceled earlier this year after community members complained about its partisan nature.
The original course, which had the words "Trump" and "conviction" in its title, has been only slightly modified from its original form. The course, which is now titled "Impeachment, Removal, and Special Counsel," is taught by John Joseph Cleary and took place over two days in October.
A course description provided on San Diego State's website reveals that the course has been modified only to remove specific mentions of President Trump. The College Fix report, however, claims that the course's syllabus retains a specific focus on the current president.
Focus will be on the two constitutional grounds: impeachment and removal (25th Amendment), and the possible charges of the independent counsel, the powers of the president, a history of the creation of that office and the comparison of divine right and rule of law leadership, presidential impeachments, including Nixon's de facto impeachment, practically limitless grounds for impeachment, presidential immunity from indictment, and grounds for impeachment, removal, or indictment covering: conflict of interests, foreign emoluments, climate change, racism, religious bias, improper influence, nepotism, and a host of crimes, including conspiracy, false statements, and obstruction of justice.
George Washington University Professor John Banzhaf condemned the course, arguing that Cleary's argument for Trump's impeachment is inadequate. "Although the grounds for impeachment are vague and malleable," he wrote in an email, "it is clear beyond any doubt that climate change, racism, and religious bias are not sufficient grounds for impeachment."
"He has been praised if not hailed by many African Americans leaders, especially now that the Black unemployment rate is a record low," Banzhaf added.
http://feedproxy.google.com/~r/breitbart/~3/-YwkfVPV1I8/