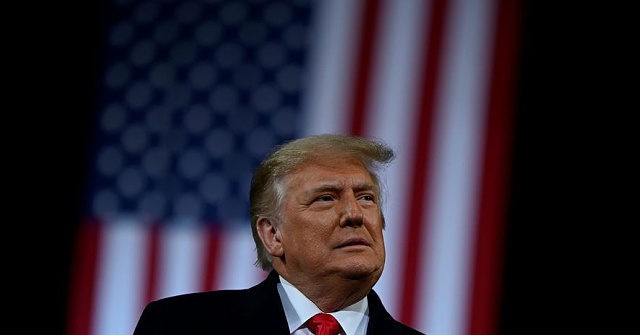 Former President Donald Trump has expanded his lead over President Joe Biden to five points, according to a hypothetical presidential general election poll.
The Harvard-Harris poll released Thursday shows that 45 percent of registered voters back Trump versus 40 percent who back Biden. Another 15 percent of voters are undecided. Trump slightly expanded his lead compared to last month's Harvard Harris poll, which found him leading Biden at 45 percent to 41 percent respectively.
🇺🇲 2024 Presidential Election Poll

(R) Trump: 45% (+5)
(D) Biden: 40%

(R) Trump: 48% (+10)
(D) Harris: 38%
.
(R) DeSantis: 43% (+3)
(D) Biden: 40%

(R) DeSantis: 43% (+2)
(D) Harris: 41%

Harvard/Harris (B) | April 18-19 | 1,845 RV https://t.co/CdjLI5sgN8 pic.twitter.com/9dwtaYB8gr

— InteractivePolls (@IAPolls2022) April 21, 2023
While Trump enjoys a larger lead over Biden, Gov. Ron DeSantis (R-FL) also bests the president in a head-to-head matchup with 43 percent of support to Biden's 40 percent. A DeSantis-Biden matchup sees a larger undecided demographic at 17 percent. DeSantis and Biden are each down one point compared to March's poll, when they registered at 44 percent and 41 percent, respectively.
Trump also expanded his lead over DeSantis in the GOP primary compared to last month. Trump holds 55 percent of support among Republican voters in a crowded field, nearly tripling the 20 percent of voters who back DeSantis.
Trump's lead over the governor has grown a net nine percentage points since March when Harvard-Harris found 24 percent of Republicans supported DeSantis and 50 percent would vote for the 45th president.
No other candidate eclipses double digits in the current poll. Former Vice President Mike Pence, who will make a decision on a White House bid in the coming weeks, sits in third place with seven percent. Former Gov. Nikki Haley (R-SC) receives four percent of the backing, while two percent would vote for entrepreneur Vivek Ramaswamy.
Sens. Ted Cruz (R-TX), Tim Scott (R-SC), and Marco Rubio (R-FL) each hold one percent support, while former Gov. Asa Hutchinson (R-AR) failed to secure a single percentage point following his announcement several weeks ago.
Just two percent of participants would prefer a different candidate than those listed, while eight percent are undecided — up three points from March.
Harvard-Harris sampled 1,845 registered voters from April 18-19. A margin of error was not specified.
https://www.breitbart.com/politics/2023/04/21/poll-trump-expands-lead-joe-biden-5-percent/