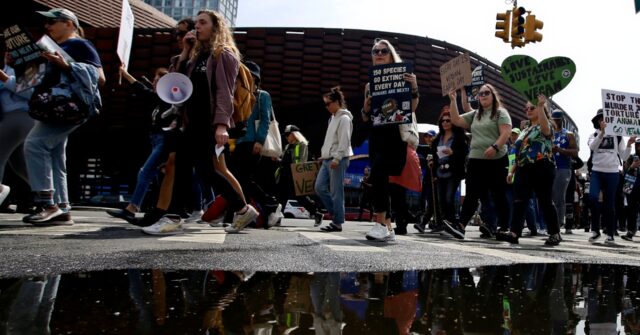 A woman was reportedly punched Saturday during a "Car-Free Earth Day" event in New York City as Mayor Eric Adams (D) stood nearby.
The "apparent emotionally disturbed woman" is accused of sparking the incident at the event the took place on Willis Avenue, according to the New York Post, which also shared video of what happened.
The woman was kicking bags of recycling items before opening them and dumping the debris everywhere.
However, the Post said a man who appeared to be in his 60s tried telling her to stop, but the woman did not listen and threw food at the man.
She then reportedly dumped another bag and cried out "Fuck off my block! What the fuck is up?!"
That was when the man allegedly punched her in the face and she fell to the ground.
An image shows the man, wearing a green shirt and white hat, during the altercation with the woman:
Man clobbers disturbed woman in face at NYC Earth Day event — just steps from Eric Adams https://t.co/yxGIAepe8O pic.twitter.com/PaPnxjrXsh

— New York Post (@nypost) April 22, 2023
The mayor's security detail and others tried to quell the fight and separate the two individuals, but the woman got up and ran at the man.
However, she was unable to reach him because security was whisking him away from the scene.
"What a wonderful blue city," one social media user commented on the Post's story, while another said, "Please focus, Mayor Adams…No law enforcement, no peace…. No education, no peace…. No family values, no peace… No religion, no peace…. It's not hard. You can do it!"
"Eric Adams says it is just a 'perception' N.Y.C. is not safe. Clearly Adam lies," someone else replied.
Meanwhile, the woman reportedly walked away from the event while Adams stayed to meet residents. The Post report noted the two individuals' identities could not be confirmed and no arrests were made following the incident.
A similar incident happened when Adams was nearby not long after he was sworn in when he saw a fight and called 911 as he commuted to City Hall, Breitbart News reported January 1, 2022.
"Once a transit cop, always a transit cop" @NYCMayor told reporters at the time https://t.co/5qkTgT9oUA

— Julia Marsh (@juliakmarsh) January 1, 2022
"Once a transit cop always a transit cop," Adams said before the mens' argument turned into a physical fight.
https://www.breitbart.com/health/2023/04/23/photos-nyc-man-hits-woman-at-earth-day-event-with-mayor-nearby-f-off-my-block/